First of all, congrats to the US women's football team for their World Cup victory, which was well deserved despite Alex Morgan's tea-drinking celebrations that triggered the whole of England to no end. 
Featured Image VIA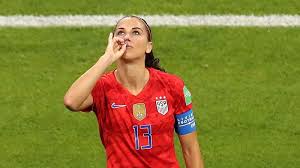 Top trolling to be fair.
The US player who seems to be getting most of the attention though is Megan Rapinoe, who has been unbelievably gassed up off her own fumes since the American girls won the trophy. 
Here's one example:
I DESERVE THIS! …. I deserve this…

everything.

Lmao!! Man I love it! 😃

Yes you do #MeganRapinoe#WorldCupfinalpic.twitter.com/ST5x6jOmDR

— Å Fusion (@AngelicFusion) July 11, 2019
What's attracted the most criticism though is this clip from the other day in which she signs a young fan's ball without even looking at him or acknowledging him once:
Can we get a signed ball, too @mPinoe?! 🤩 #ESPYS pic.twitter.com/u4GxyC3Mtg

— ABC (@ABCNetwork) July 11, 2019
Wow, a real heartfelt connection there. Feeling herself a little too much I think. Here was the general reaction on Twitter:
The more I see her the more I dislike her ! The kid should have volleyed it back in her grid !

— David Dunn (@David8Dunn) July 13, 2019
The window to the soul is observing how someone treats someone powerless who can do absolutely no good for them. She's a piece of shit. Her actions over the last 3 weeks confirm it. Making eye contact and acknowledgment of a fan costs 0.

— racer_x (@racingpartsale) July 13, 2019
What makes this so appalling is when she hands it back and looks away, gives impression that all she wants is for him to go away

— Kemba George (@kembageorge) July 13, 2019
How about she acknowledges him and maybe looks at him? What a cow.

— Tina Anobile (@Tanobile) July 13, 2019
She's unbearable

— Philip 🇸🇪 (@shitssoko) July 12, 2019
She's really turning into a nasty "of the moment" celebrity.... absolute respect for the team but not liking the way she is starting to go about things....

— The Scouse Nomad (@G2theb4) July 11, 2019
She talks so much about equality and tries to promote the women's game, but then behaves like she does, portrays herself in a bad light and gives the women's game negative publicity 🙈

— Liam (@LRoche04) July 13, 2019
She needs to take lessons from ronaldo on how to behave around fans. Wants equal pay a lot of learning to be had. Not happening any time soon whilst the behaviour towards fans is like this

— Dan (@Daniely79) July 13, 2019
Piers Morgan even called her an 'arrogant piece of work', which is pretty ironic but still - he's not wrong on this evidence.
Wow. Doesn't even look at him.. such an arrogant piece of work. https://t.co/BEJjGqIIhj

— Piers Morgan (@piersmorgan) July 13, 2019
Then again Megan Rapinoe is currently ahead of Donald Trump in one 2020 Presidential poll, so I guess somebody out there likes her.