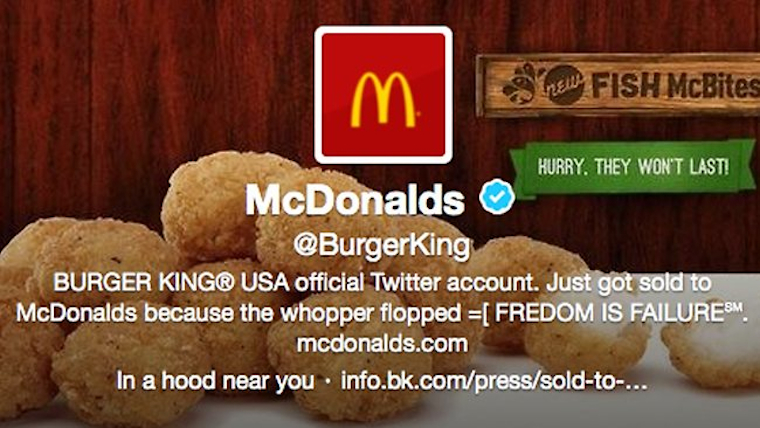 Mad props to Tom Gatenby and @samrichards2289 for bringing this to our attention. Everyone loves it when massive corporations screw up their social media policies and it's probably even better when one of their social media feeds gets hacked and the guy who hacks it is actually funny and has a real laugh with it, and fortunately that kinda happened yesterday. I say kinda because the dude was only kinda funny as opposed to being hilarious but it was still a pretty good prank and I'm gonna write it up so you know, fair play to the guy.
So yeah basically, some guy – no idea who – managed to hack Burger King's Twitter feed either by using some sophisticated hacking software or just because whoever is in charge of Burger King's social media feeds is an idiot and had no idea how to pick a good password. The guy tweeted that he had figured out the password and that it wasn't 'whopper123' but who the hell knows if that is true or not? Anyway the perpetrator managed to have control of the Twitter feed for around about an hour and basically had a right little giggle with it, changing the profile to basically be a profile for McDonald's aside from the handle and posting about 100 tweets over the hour. What a joker.
The main pciture was now for something called McDonald's fish McBites – which I have never heard of – but apparently you have to get a hold of them quickly, before they sell out. They sound real good, although they seem like they would be more of an American product than an English one. Maybe next time I'm over there or something I'll check them out. If they haven't sold out yet obviously. The blurb underneath the main picture got changed to 'Just got sold to McDonald's because the whopper flopped' which probably cuts those Burger King bigwigs deep huh? The icon got changed to one of the McDonald's logo too. This guy was leaving no stone unturned in his promotion of McDonald's on the Burger King Twitter. Sickhead.
His tweets were probably the best part though. Here's a few screengrabs of a few of the best ones. Also an apology: I just assumed the person who hacked the Burger King Twitter was a girl and have referred to him as a male throughout this article. I can't really be bothered to go back and change it but if it was actually a girl then you go girl. Here are those tweets:
☛ Read This Next: McDonald's Serves Mouse Shit Burgers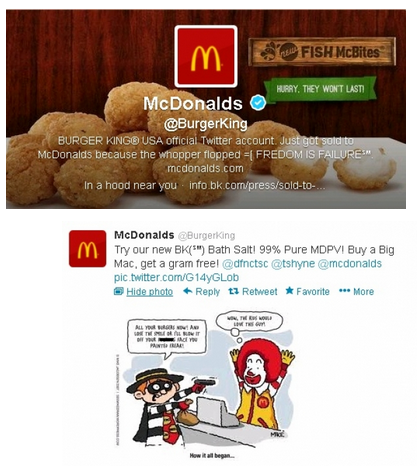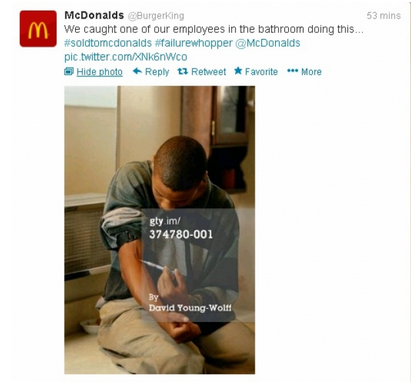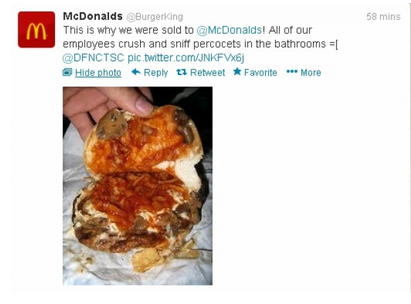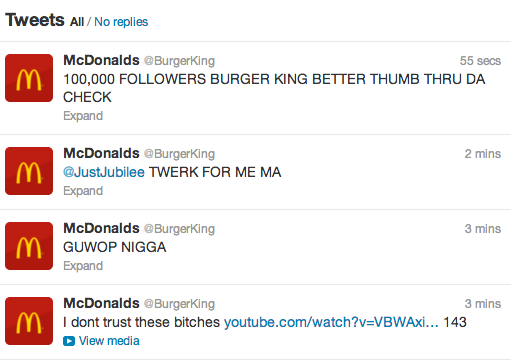 Unfortunately some loser from Burger King figured out that they had been hacked and did a big A WAH and got in touch with Twitter who suspended the account. However, the guy who did it still managed to do an hour's worth of jokes tweeting, which also gained the Burger King Twitter account 30,000 new followers. That's pretty awesome for a day's work. Maybe it was an inside job? That would be a cool idea.
Here's the tweet that Burger King posted upon regaining control of their account, which is probably indicative of the boring content that most of their new followers will be checking out on a daily basis from now on. Still it seems like it's a lot easier to follow someone than it is to unfollow someone on Twitter so it seems like most of them are in it for the long haul. Suckers.
☛ Watch This Next: Guy Tries To Eat Burger King Burger With 1,050 Slices Of Bacon On It 

There was also condolences from the enemy on their Twitter account, which probably just makes the whole affair even stupider:
☛ Read This Now: Fast Food Horror Stories