Antifa types have been making regular protesters look bad ever since the BLM protests got underway 3 months ago, and this story just about sums up what these wannabe anarchist losers are all about.
Featured Image VIA
As per the NY Post, an Antifa leader known as 'Commander Red' was busted carrying a flamethrower and smoke grenades to a Black Lives Matter rally in Wisconsin, and "dropped into the fetal position and began crying" when stopped by police.
Matthew Banta, 23, is "known to be a violent Antifa member who incites violence in otherwise relatively peaceful protests," a criminal complaint in his Green Bay arrest record states, according to WBAY.
He was carrying Antifa stickers and a flag along with 'military-grade 5-minute' smoke grenades, fireworks rockets, and a flamethrower.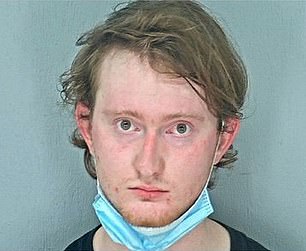 Matthew was apprehended after being spotted with "a whole bunch of white people with sticks, baseball bats and helmets" heading toward a BLM event in Green Bay, police said in the criminal complaint.
All his buddies fled when a police car blocked their path, but Matthew was stopped and "dropped into the fetal position and began crying," the police report said. He complained that an officer got on top of him, which police have denied.
Green Bay Police Chief Andrew Smith told WBAY:
It's worrisome when people associated with Antifa come here to Green Bay from out of town … for the purposes of committing violent acts.
At the time of his arrest, Matthew was already out on a $10,000 bond after allegedly pointing a loaded gun at a police officer as well as biting and kicking a cop at a protest last month.
A condition of his bond was that he can't have a dangerous weapon on him, so I guess it's no wonder why he dropped to the fetal position and started crying because he is presumably pretty screwed right now.
Welp, can't imagine this chap will fare too well in prison given that the black gangs won't want him, the Latino gangs won't want him, and the white gangs definitely won't want someone in their ranks who cries in the fetal position as he's being arrested. My main concern though is that it looks like Matthew Banta has never been exposed to sunlight and that definitely won't change if he's locked up behind bars 24/7. Get this guy some vitamin D ASAP!
Will Matthew even do any real prison time though? There are plenty of funds set up dedicated to bailing out troublemakers like him, though given his history and initial bail conditions it may not be that easy for him this time. Either way, Antifa may want to select their commanders a little more carefully next time if they want to be taken at least a little bit seriously.
To watch a Trump supporter and Antifa member get into a terrifying screaming match during a BLM protest, click HERE. Which side is more insane?