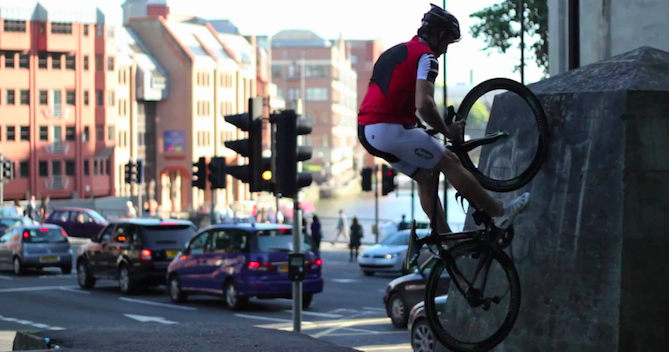 Danny MacAskill's pretty much got the whole trials riding market sewn up with Joe Public, and in all fairness, he's got some sick skills in that department.  He's had a fair bit of exposure over the past couple of years in the extreme sports world, which must be a bit of a bummer if you're also some badass biker that hasn't got any mates who can stitch together a decent film of your completely tekkers riding, with some shit "cool" indie nonsense playing over it.  While I'm on this tip, surely I can't be the only person in the world that thinks that Mumford and Sons are about as appealing as being waterboarded with month old piss scooped from an open latrine from Camp Bastion?  Just putting it out there.
Step forward veteran ex trials world champion Martyn Ashton.  Realising that he had to come up with something a bit different if he wanted to crash Danny's party, he went and did just that.  This guy's a complete sickhead, which becomes pretty clear when you see that he's doing it all with what looks like a normal roadbike (or a racer as your dad would call it).  The only thing is, this particular bike is none other than the one Wiggo won the Tour de France with last year, the TEN GRAND Pinarello Dogma 2.  If you added up the cost of all the cars I've ever owned, they still wouldn't add up to ten grand.  That sucks.
And yes, I know the video's six months old but in my defence, there's a lot of stuff out there in internetland and being burdened by a job, I can only get through so much of it every day.  Whatevs, just check it out.
☛ More Bikes: 
Nike Turn London Swimming Pool Into BMX Park 
[yframe url='http://www.youtube.com/watch?v=7ZmJtYaUTa0′]