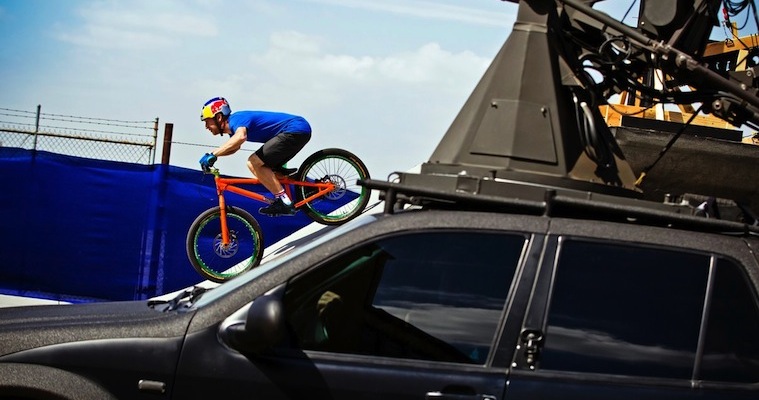 Shout out to Hannah Beard with the tip on this one. Everyone knows – pretty much all thanks to Felix Baumgartner's epic space jump – that Red Bull are doing a lot of cool stuff all the time and this video is no exception. It's a play on that classic OK GO video (or The Bravery, if you're into even shitter indie rock)  where the camera just follows round a kind of Mouse Trap contraption around and loads of cool stuff happens in order and it keeps making cool stuff happen until something big at the end, kinda like dominos but instead of using dominos it has loads of really cool contraptions in place of the dominos doing cool stuff. You know what I mean right? it's just kinda hard to explain in words, apparently the technical name for it might be a kluge but I'm not so sure about that. That's just how this video is labelled.
☛ More: Felix Baumgartner's Helmet Cam 
Anyway, Red Bull have used their association with extreme sports and taken the kluge to the next level by involving a bunch of extreme athletes in it. It might be a bit long compared to your standard kluge as it clocks in around 6 minutes long but it's also a damn sight cooler than your average kluge as you get to see skydivers, skateboarders, bmx'ers, snowboarders, rally car drivers and motocross riders in action as they all play their part in continuing the kluge. I'm guessing most of them are probably fairly famous too but the only one I had heard of was Danny MacAskill and his part is probably one of the best. It looks as if they all did it in one shot too, although I don't know if that would actually have been possible because despite how sick all of these guys are I don't know if they could ever all have managed to do it, one after the other to complete the kluge. Still, top marks for editing if they didn't, it's a sick video and I guarantee you'll watch it all without skipping it just to see what they come up with next and who's going to pop up in it.
Check it:
☛ More: Red Bull Winch Sessions 
☛ More: FedEx Dominos
[yframe url='http://www.youtube.com/watch?v=M0jmSsQ5ptw']