The other day, 79-year-old Martha Stewart shared a 'thirst trap' on Instagram which blew up the internet…
View this post on Instagram
She actually posted it a second time on her other account, which included an outrageous caption beneath the photo that was pretty funny:
"Oh this old thing? I built it 30 years ago in my Hampton's mansion darling".
Well apparently this rubbed Chelsea Handler the wrong way so she went on IG herself and recreated the photo, only to get absolutely MURDERED by Martha Stewart in the comments underneath:
Martha's response: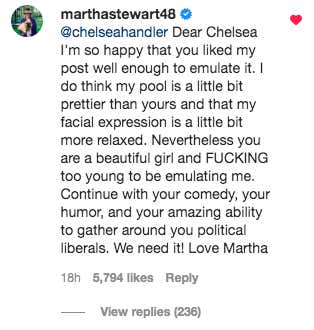 Ouch. RIP Chelsea Handler. People forget that Martha Stewart is an actual OG who went to jail for 5 months before she became a self-made billionaire, which is obviously way more $$$ than Chelsea Handler will ever earn, which Stewart made clear with her clap back. No chance Handler can come back from that put-down, which is why she hasn't even tried I guess.
No wonder Snoop Dogg rates Martha Stewart so much – both absolute gangsters:
For more Instagram thirst trapping, get a load of what Steve Harvey's daughter has been up to. Wow.