Anyone who has ever walked across the Brooklyn Bridge knows that it's a hotbed for tourists, pushy cyclists and 16-year-olds who think they're Instagram models. So with that in mind, I think most people would agree it's a dodgy place to propose to your girlfriend/boyfriend.
Chances are your big moment won't exactly go to plan:
What an idiot! What did he think was going to happen? The photographer was standing right in the middle of the bike lane ffs.
Total disaster all round. Imagine popping the question and having your video guy yell "louder" in the middle of it because no one can hear what you're saying, and then some random cyclist comes crashing into the frame and floors your photographer seconds later.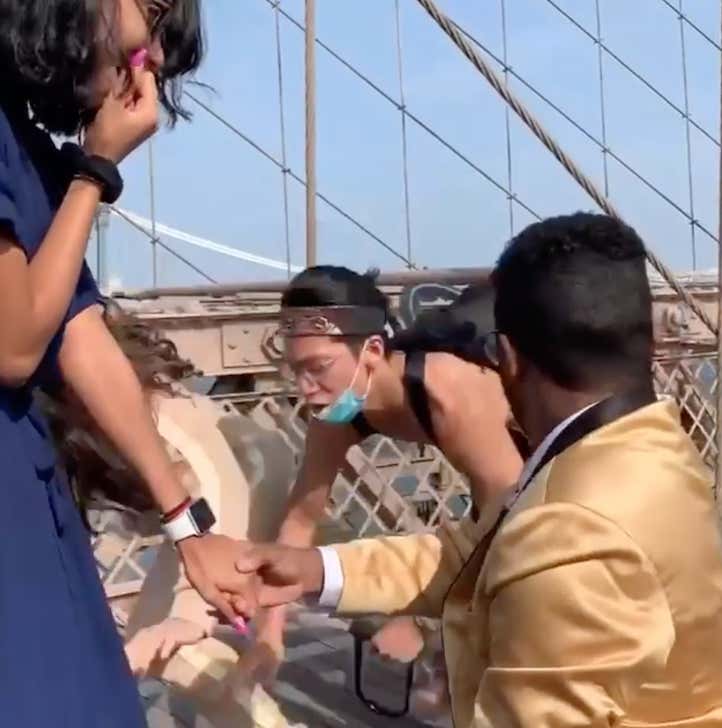 Not the greatest of omens really. Although according to the NY Post the girl said 'yes' so I guess it wasn't a complete disaster. Best of luck to these two lovebirds in the future! They're probably gonna need it.
Bonus video – a compilation of people being rejected when popping the question on camera. Brutal stuff:
For the man who proposed to his girlfriend using the side of a cow, click HERE. Definitely onto a winner there.