It seems like there are still countless stories about Marilyn Manson's grotesque behaviour to come out in the fallout of the revelations last week as it's only 2pm on Monday and we're already writing our second article on him today.
Featured Image VIA 
This time it's a 29 year old photographer named Erica Von Stein who has a story to tell about Manson, specifically back in 2012 when his miners invited her onto the tour bus with him in England during his 'Twins Of Evil' tour. It started off innocently enough with Von Stein and other girls drinking with Manson and his entourage, before the mood changed suddenly when Manson decided he wanted to see all the girls naked:
He said he wanted to see who had the best t*ts and ass. Everyone was a bit surprised. He made it feel normalised, like it was fun.

He was surrounded by older people and he was domineering. I don't think anyone felt they could say no.

He didn't force anyone to play the game, but he caught them off guard.

They stood there while he commented on their boobs and bums. Bras came off but I think pants stayed on.

His partner at the time had a dress on and pulled it to one side so her chest was out. She wasn't wearing a bra.

My instinct was to get the f*ck out of there.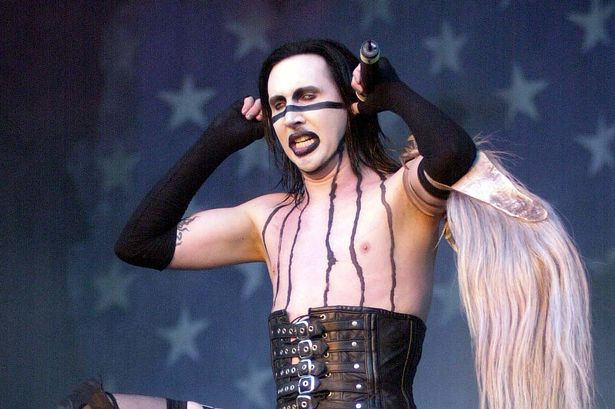 Another two girls spoke to The Mirror and confirmed this story, although they stayed on the bus and let Manson touch their breasts:
I was insecure about my boobs so felt better when he said that they looked natural.

My friend won because hers were larger. I didn't want to be prudish.

I was thinking 'this is a once in a lifetime chance'.
Ewww. This is kind of creepy and weird and gross, but it's nowhere near as awful as some of the stuff that Manson has been accused of in the past week. I don't want to sound like I'm normalising it because it is grim, but this is the kind of stuff that you aren't really that surprised to hear about Manson and other rock stars getting up to on their tour buses. Not sure if it passes as normal, but if Manson is going to get called out about this then I bet there are a hell of a lot of other rock stars out there who are quaking in their boots right now about some of the stuff they've gotten up to in the past.
For more of the same, check out everything that's come out about Manson in the past week. There really is no way back for him after this.