Nike has terminated its relationship with Manny Pacquiao after the former world champ described homosexuals as "worse than animals" the other day and then delivered one of the least sincere apologies of all time when the backlash kicked off.
Featured Image VIA
A statement from Nike reads:
We find Manny Pacquiao's comments abhorrent.

Nike strongly opposes discrimination of any kind and has a long history of supporting and standing up for the rights of the LGBT community.

We no longer have a relationship with Manny Pacquiao.
Obviously this is something Nike had to do, but it's no big deal for them really as Manny's best days are already behind him and he's probably about to retire anyway after his next fight against Timothy Bradley Jr in Vegas in April. Then I guess he'll carry on running for political office in the Philippines where he's a hero no matter what he says.
Anyway, following the news that Nike dropped him, Manny shared this Bible Verse on Instagram (since deleted):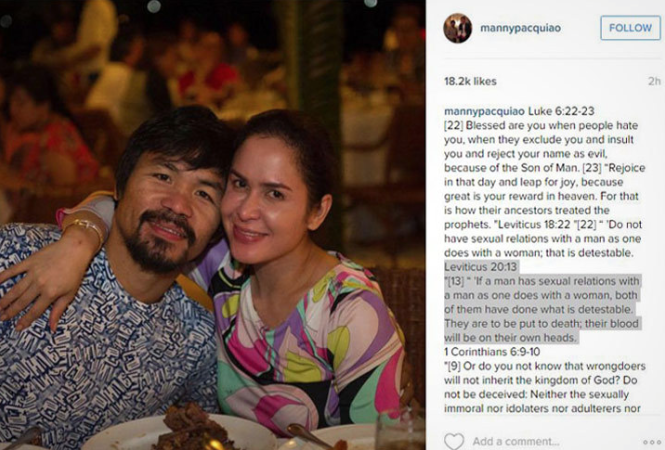 Probably not the best way to turn public opinion back in your favour, but I suppose the guy had to go all-in one way or another. Whole world thinks you're a homophobic arsehole? Throw up a Bible verse that basically says God wants gay people to die. That'll help.
Just a massive shame overall – really liked the guy after reading the story about him running away from home as a kid.