It's already confusing enough defining what an essential journey is during lockdown, so it's hard to know if disposing a dead body would be included in that definition – but if you're planning on stepping outside to do that then you probably want to make sure you don't get caught as well.
Images VIA 
Sadly – for them at least – this wasn't the case for a couple from Birmingham/Wolverhampton who were stopped on a road in Coleford, Gloucestershire after a policeman became suspicious and asked them what was in the giant suitcase they were carrying and found a human torso. Bit of a red flag there, carrying a giant suitcase around during a global pandemic. Not like you're going on holiday is it?
The police subsequently found further human remains around the surrounding area in the Forest of Dean and are still searching around it for even more. Here's what the official statement said: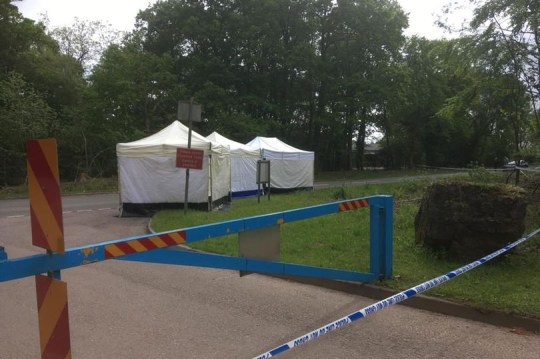 Due to an ongoing police investigation road closures and scene guards are in place on the A4136 between Monmouth and Coleford.

Shortly after 11.30pm last night, Tuesday 12 May, officers discovered suspected human remains.

Cordons are likely to remain in place for the rest of the day while enquiries continue to establish what has taken place and further forensic tests are being carried out on the remains.

A woman from Birmingham aged in her 20s and a man from Wolverhampton aged in his 30s have been arrested on suspicion of murder in connection with the investigation and remain in police custody today, Wednesday 13 May.
I mean what a crazy story. How the hell do you end up murdering someone during a global pandemic when everyone is on lockdown and then thinking it's a good idea to cut up the body and try and ditch it in a forest via a suitcase?
I have no idea, but I'm interested to find out as the truth will be slowly uncovered in the coming weeks and inevitably brought to us in a couple of years in a Netflix documentary or limited edition series. You know it'll be a good one too.
For more of the same, check out the trailer to Netflix's new Jeffrey Epstein documentary. That's gonna be a good one.