A 43 year old tree surgeon named Chris Bishop has decided to carve an 18 foot shrub in his back garden in residential Worcestershire into the shape of a giant penis. I guess dick jokes really don't ever get old.
Chris – who is obviously single – spent three years perfecting the arboreal sculpture of his Cypress Tree so that the tip looked just right, as it had grown into an unanatomical shape. What an absolute servant to his art.
He had this to say about it:
If it caused any offense I would chop the head off. I don't want to offend anyone, I just want to make them smile.

I'm a tree surgeon and spend my whole time trimming other people's bushes.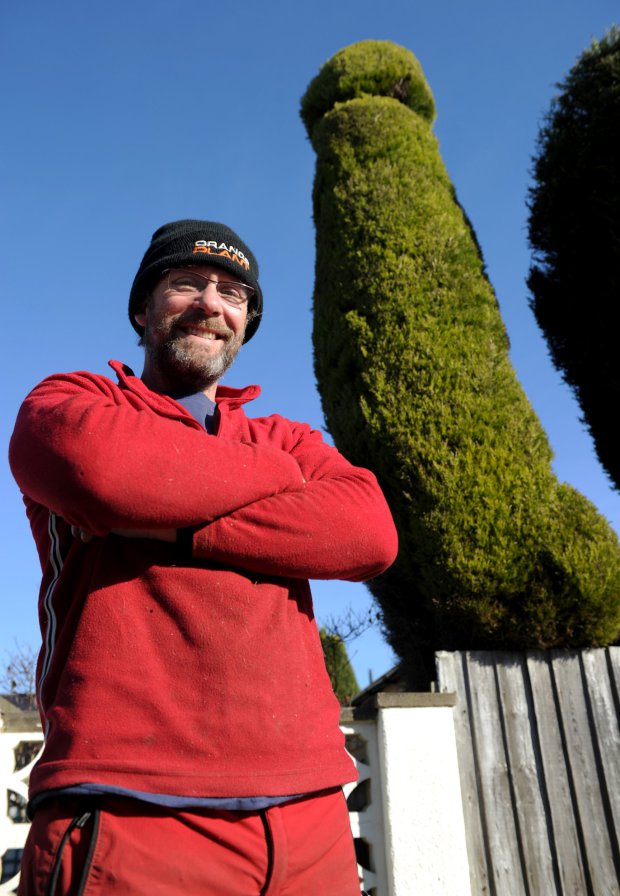 Images VIA
Alright mate, we get the picture. Having said all that though, one of his neighbours isn't happy about it at all, giving the following quote:
Him and his mates thought it was hilarious.

I find it very offensive, remarks are always made by people coming past. It's a massive eye-sore.
Chris doesn't seem to be taking any notice of this though, as he's planning on adding a pair of testicles to it once the bush has grown enough. Jesus – ever heard of taking a joke too far?
I mean if you want to do it properly, just buy the house next to your ex wife and erect a giant statue of a bronze middle finger, right? Maybe that could be Chris' next sculpture in the direction of his ungrateful neighbours.