In news that I can barely believe is actually possible, it's been confirmed that a guy has actually dissolved into thin air after he went and took a bath in a hot spring.
Featured Image VIA 
Heading to a natural geyser and enjoying a swim/soak in it really is one of life's little pleasures, but it turned out to be anything but for 23 year old Portland resident Colin Nathaniel Scott. He was visiting Wyoming's Yellowstone National Park with his sister Sable when he decided to ignore all warning signs and go and try and bathe in the water of the Norris Geyser basin.
Normally you wouldn't have expected this to be a problem, but the water there is highly acidic which is why there were a whole bunch of warning signs around it. Scott was leaning over the edge to test the temperature of the pool before he entered it, but slipped into it when he lost his footing. Due to the acidic nature of the geyser, his skin started burning immediately.
To make matters even worse, his sister Sable was filming the whole thing on her mobile phone. Fortunately this footage hasn't been made available to the public at this point and hopefully it never will be.
Search and rescue rangers arrived to the scene a few hours later to find Scott's remains in the geyser, along with his wallet and flip flops. Unfortunately a lightning storm interrupted any hope of recovery and upon returning the day after, there was literally nothing left and he had been completely dissolved, just like he had never existed at all. Geez – what a way to go.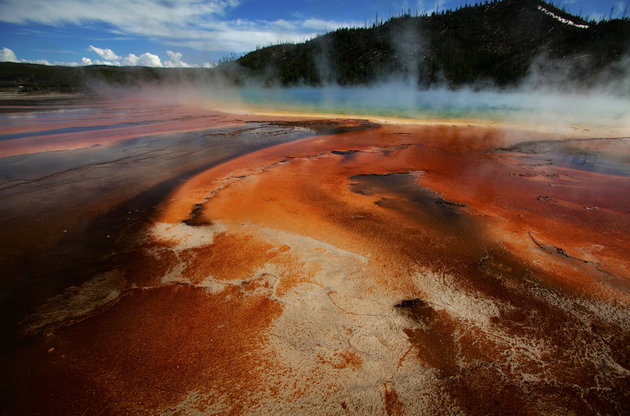 Lorant Veress, a deputy chief ranger, said the following:
There's a closure in place to keep people from doing that for their own safety.

It's a very unforgiving environment.

The air left the boardwalk and walked several hundred feet up a hill to find the Norris Geyser.

They were specifically moving in that area for a place that they could potentially get into and soak. I think they call it Hot Potting.
No shit dude, it's probably the most unforgiving environment in history, as it's going to literally erase you from history. You've been warned – always read the signs. Maybe if you're into 'hot potting' (stupid name) try and get out of it too. You might die for real.
For more people getting dissolved, check out this dude trying to dissolve someone in a bath Breaking Bad style and totally screwing it up. Only works on the TV shows pal.