Over in Vernon, Connecticut a 22-year-old guy named Shawn Cummins has been arrested after he unloaded his 9mm pistol into a bathroom stall because the person in there was taking too long. What makes it worse was that it wasn't even a public bathroom, but actually inside a dude's apartment.
Featured Image VIA 
Police were called to Apartment 80 in Portico 1 Villa Apartments on Sunday at 3am following reports that a highly intoxicated man had fired shots into the toilet. It transpired that Cummins had headed over to his neighbour's apartment to hang out at around 2am and became upset when he perceived that someone was taking way too long in the bathroom.
He took out his 9mm pistol from inside his waistband and fired one shot into the bathroom, narrowly missing the guy inside. He then went outside and fired another shot into the wall of the apartment too. I guess when you gotta go you really gotta go. Or when you gotta rack up that next line or shoot up, you've really got to do that too.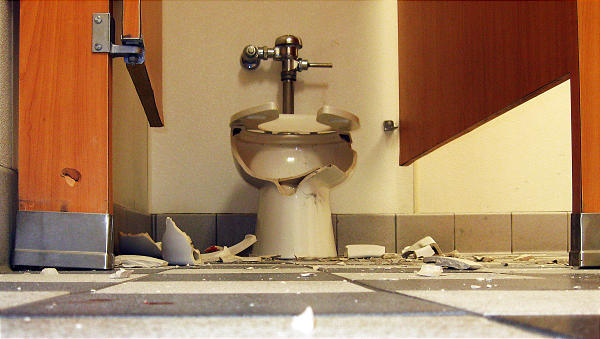 The police arrested Cummins and he was charged with a whole bunch of crimes including the unlawful discharge of a firearm, carrying a firearm while intoxicated, reckless endangerment and threatening and disorderly conduct. The cops also confiscated a .45 caliber handgun and a 12-gauge shotgun from his apartment. At least he had a permit for them, but that was also confiscated. Unlucky mate.
There have been a whole load of times when I've been really, really desperate to go to the toilet but I don't think I would ever consider shooting the guy inside in order to get in. I mean if I hit him that's going to take him even longer to open the door and me to finally empty my bowels isn't it? Don't really think Cummins thought this one through. Bad decision this time pal.
And who knows, if this guy can shit his pants on his first date and still end up with a girlfriend, maybe you should just let it all out?