As far as Guinness World Records go, there are some strange ones out there. A couple of days ago someone set the world record for planking – which is kind of weird – but this attempt blows it completely out of the water.
It comes from a guy called Gao Binngguo in China who decided that he wanted to set the world record for the amount of bees he could be covered in. Nobody knows why he wanted to do this but presumably he has a passion for bees as he's worked as a beekeeper for 35 years and wanted to go down in history as well.
The attempt went down on Monday, when Gao was covered in a host of queen bees in a bid to attract more worker bees over to him. Boxes of bees were then dumped at his feet until he was progressively covered in 1.09 million of the little dickheads. That's some Wicker Man shit right there, but Gao doesn't seem to have even blinked and even looks like he's just chilling out smoking a cigarette in the picture below? Major baller.
Images VIA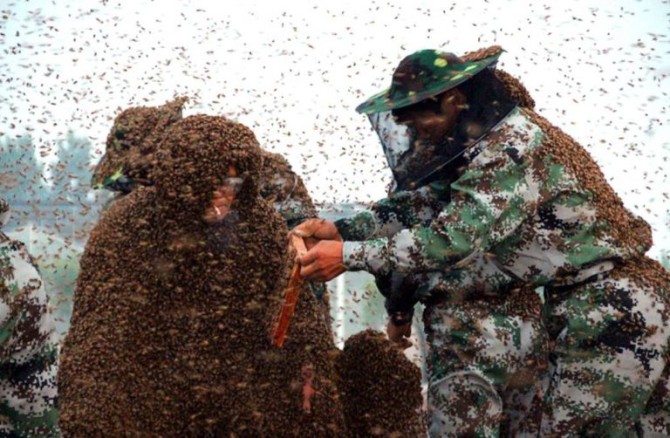 As you're no doubt unsurprised to hear, Gao smashed the previous record of 85kg of bees – yes, two people have actually been insane enough to attempt this world record – by getting covered in 109kg of them. Absolutely mind-blowing. He didn't get out unscathed though and was stung 2000 times with his body temperature rising 23 degrees more than the usual level to 60C.
Gao probably doesn't care about that though and is just chilling around somewhere smoking a cigarette. That's just how he does.