A Northamptonshire man has listed himself for sale on Facebook Market Place in an attempt to find a girlfriend after being single for 11 years.
Featured Image VIA
Alan Clayton, 30, describes himself as "free" and in "good condition" on the items for sale page and has already been on one date… although sadly it didn't work out. But hey Rome wasn't built in one day, right?
Here's the ad: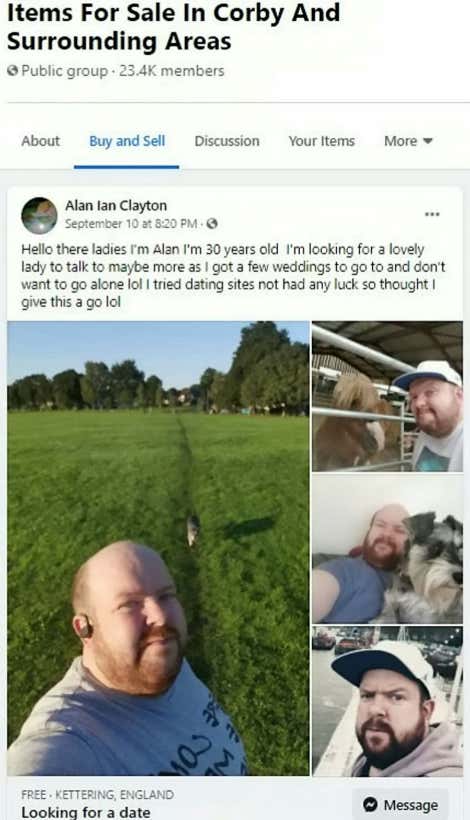 What are we thinking, ladies? Yes or yes? You've already got one thing in common because like you and everybody else, Alan doesn't like going to weddings alone. Will you be his "girlfriend to go to weddings with"? Well you better act quick because there are people showing interest, as Alan told Yahoo:
I've tried conventional apps like Tinder and Plenty of Fish but nothing has really happened so I went to sign up to e-Harmony. "They asked me lots of questions and I suddenly thought 'why don't I just advertise myself online on a bargain adverts page.'

"I could only go two ways – people taking the mickey or finding someone. So far the response has been amazing. I was up past midnight reading all of the messages of support from people. I've had women show some interest but it has not really led to anything.

"I've been on one date so far as a result but that didn't work out unfortunately so I'm still very much on the market and it's still relatively early days.
Sounds promising! If you're a woman in Kettering, why not give Alan a go? Worst case scenario you get a free meal out of it, best case scenario you fall in love with the man of your dreams. It's a total no-brainer. Not to mention he comes with a dog!
Bonus points if you're fun to be around:
The Manchester United fan is looking for somebody who is "funny, outgoing and independent with a bubbly personality". He added: "I'm hoping for a woman who shares some of my interests but I'm not that fussy as long as she's fun to be around."
Not too fussy is a great way to be. I really think this is gonna work out for Alan Clayton. After all there's someone out there for everyone so give the guy some credit for finding a novel way to do things. The middle aged women on Facebook are gonna love this especially! Obviously if you think Alan's the man for you then head over to his page and message him. Best of luck, Alan!
For the Serbian guy who has been rejected by 5,000 women on Facebook, click HERE.