A supermarket worker has been jailed for 30 months and banned from keeping animals for life after admitting having sex with chickens and his own Great Dane dog.
Featured Image VIA
Shane Waters, 40, carried out the sickening attacks after sneaking into a farm in Accrington, Lancashire.
A farmer had discovered a number of dead and injured birds on September 19 and fearing something sexual had happened to them, checked CCTV where he saw Waters creeping out of the enclosure shortly before midnight.
Following his arrest days later, Waters told police:
I need help. I know what I have done. I just get these urges.
According to Lancashire Live, Waters confessed to visiting the farm around nine times in all, 'but usually only had sex with one chicken', although this time 15 were left dead as a result of his shagging all of them.
Prosecutor Barbara Webster added:
He did not like performing the act and said sorry to the chickens after.
Oh well that's nice, he said sorry afterwards.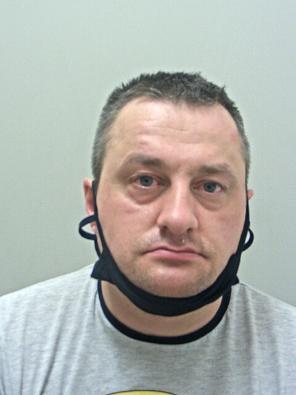 Waters further admitted having sex with his pet Great Dane dog, telling officers the animal 'did not like it and growled and bit him'. Shame it didn't bite his knob off eh?
As if that weren't all bad enough, Waters has previous convictions for abusing horses in 1997 and 2016. The hell is up with this guy?
Judge Sara Dodd told him:
Those who kept the chickens are understandably horrified and appalled by what you have done. I have no doubt anyone hearing the details of this case will be disgusted.

Your conduct is distressing and truly worrying, particularly in light of your previous convictions.
How depraved can you get? Chickens, horses and his own dog. And apparently he's a father-of-two as well.
I suppose one positive is that Waters realises he needs help. But still – the guy has been abusing animals since 1997. He could have given himself a kick up the arse 20+ years ago and assumed some responsibility in seeking help, rather than wait until he got clocked boning a farm full of chickens in 2020 before admitting he needs psychological treatment. Is he only sorry because he got caught?
Also a bit of a worry that Waters had been working in a supermarket all this time. Please tell me he wasn't in charge of stuffing/stocking the chickens? SMDH.
For the horrified Aldi shopper who found intestines inside his £3.75 chicken, click HERE. Gross.