A man who was gored by a bison back in June took his date for a romantic stroll to the exact same location – only for her to also be attacked by a bison.
Featured Image VIA
As per the BBC, Kyler Bourgeous brought Kayleigh Davis to the same trail at a state park in Utah with plans to watch the sunset.
When Kayleigh ran a little ahead, she ended up alone with a bison who charged and flipped her into the air.
I looked over my shoulder, seeing it get closer – and I looked again and it was pretty much right behind me. Right as I saw it, I flew up in the air 15ft (4.5m).
She suffered a broken ankle from the goring and a leg wound. In the earlier attack on Kyler, he had suffered a cracked rib and collapsed lung. The animal had also trampled him and kicked him in the head.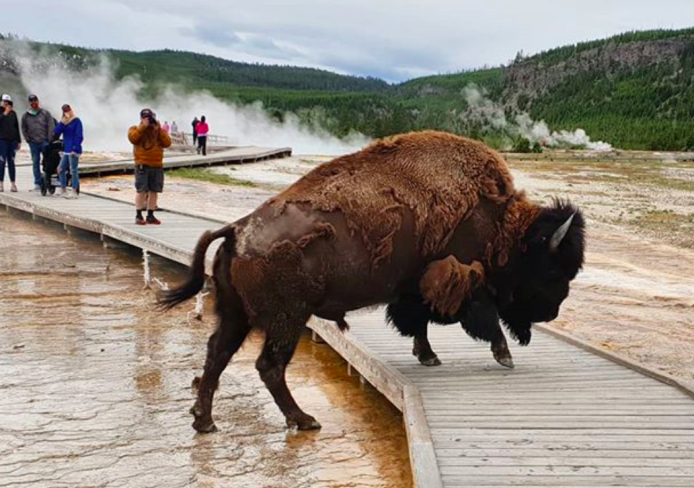 Unfortunately no word on if it was the same bison that attacked both of them but I think we all prefer to imagine and agree that it was. Does this bison just hate people with names that begin with a 'K'? Or are Kyler and Kayleigh really that unlucky?
Personally I'm going to blame Kyler for this one. He already knew the dangers of hanging out at this trail and even after getting gored by the bison, he decided to take Kayleigh on a romantic date to the exact same place where he already received a cracked rib and collapsed lung and this time watched her get brutalised too. Getting gored and surviving to tell the tale should have been enough for Kyler, but noooo. He just had to return and put his lady friend in the line of fire as well. All your fault Kyler.
To watch a young girl get LAUNCHED into the air by a bison while her parents scramble to safety, click HERE. Not quite parenting goals.