A man over in Somerset is reported to have terrorised a young woman last week. The unnamed victim, 20, managed to get a snap of the culprit, who is shown wearing a black leather suit with red crosses over the eyes and a smile drawn across the face.
Images VIA
Speaking to the BBC about the unusual incident, she said:
He kept coming towards me and was touching his groin, grunting and breathing heavy.

As I tried to take a step back he was right in front of my face and he put his leg forward. I was just trying to assess the situation in my head quickly.

Everything was running through my head. I thought: 'This is it, I'm going to get attacked'. Every time I close my eyes I just see that face.
I'm not surprised, the dude looks like a maniac. Plus, it's not like this was in London where you almost expect to see someone walking around in a gimp suit. This was in Claverham Park, a small village in Somerset.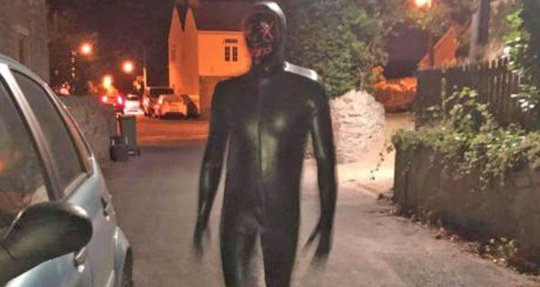 Police are yet to find the man, despite using sniffer dogs and a helicopter to try to hunt him down. A police spokesperson said:
While we're keeping an open mind about the motive for these incidents, it's clear the individual responsible is deliberately attempting to cause alarm to the men and women he's approaching.

We fully appreciate the distress these actions have caused victims but thankfully, no one has been physically hurt during any of the incidents.

We're keen to reassure the community we're doing all we can to identify and locate the man responsible.
If you know anything about the incident or who is behind it, you know what to do.
Let's just pray the police find this guy and it doesn't lead to a bunch of copycat attacks – we're only just about over the whole killer clown debacle.