Police in the UK are trialling new facial recognition software that is sure to make life harder on wanted criminals, but what does it mean for the rest of us who want to go about our day without having our faces scanned everywhere we go?
Featured Image VIA
The Met Police were trialling the Live Facial Recognition software outside Romford station in east London this week, digitally photographing and scanning anyone that walked past.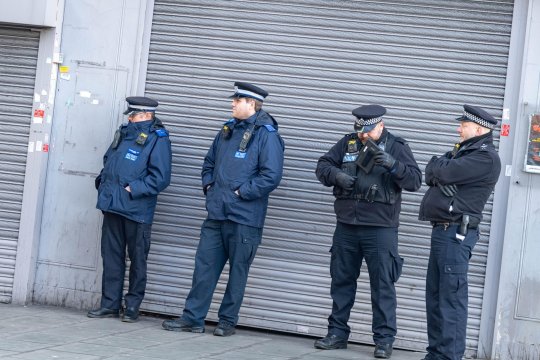 One man pulled his jumper above his chin as he walked past, so the police pulled him aside, had a go at him, and ended up fining him £90 for breaching the peace.
Watch below:
I can't believe what I'm seeing! While running a facial recognition pilot, one man (understandably imho) covered himself up. The police forced him to show his face (& then fined him for disorderly conduct). This is dangerous & terrifying. pic.twitter.com/QdG2VPGyfE

— Jamie Bartlett (@JamieJBartlett) May 15, 2019
OK, you might say 'if this guy doesn't want to be on camera then why is he talking on camera?' (fair point) or you might argue that those who have done nothing to hide have no reason to conceal their faces going past these cameras.
However I think the main issue is where this sort of Orwellian technology and surveillance could lead in the future. If you consent to having your face scanned and photographed everywhere you go today, who knows what you'll be expected to consent to in another 20 years? These things happen very gradually so you have to be careful when giving even an inch.
Not that you a say in it, mind. If this Live Facial Recognition software proves successful, you can bet it will be rolled out all over the UK ASAP.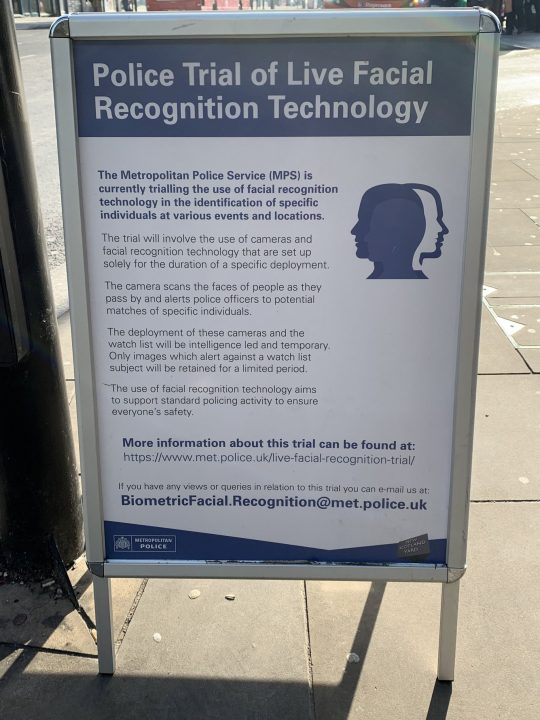 Turns out it was pretty successful during this trial in Romford in fact – eight people, including two 14-year-old boys were arrested for crimes including kidnapping, false imprisonment, breaching a molestation order, discharging a firearm, robbery and possession of drugs.
However, Silkie Carlo, director of Big Brother Watch, who was there protesting had a different view on it from what he saw:
One man was cuffed in the freezing cold for 15-minutes and then put into the back of a van because he couldn't give a successful fingerprint. He was with his girlfriend and was obviously angry and upset.

This is the problem when you have generalised identity checks on the streets. It's been a complete disaster, I've been appalled at the officers' behaviour and handling of the people they have been stopping.

People are being stopped and searched for having their hoods up or covering their heads with scarves – it's a cold day. They are stopping and ID-ing people. One person was fined £90 because he covered his face to object – and I would do the same.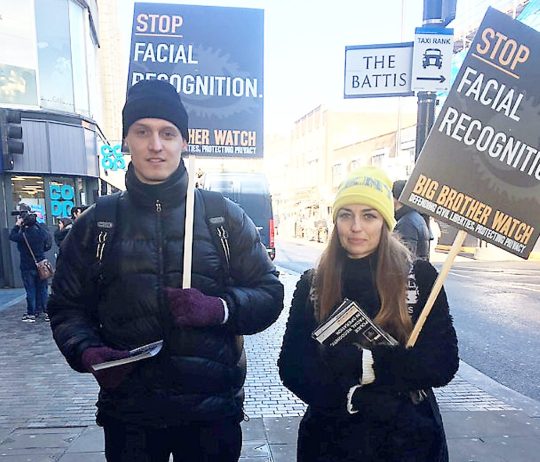 Seems there are clear positives and negatives to facial recognition software – the question is which outweighs the other?
Keep in mind this software also comes in handy when having webcam sex. Defo a positive.