If you're looking to impress women on dating apps, you can probably do a lot better than telling them about the time you stormed the US Capitol and made it all the way into Statuary Hall, and how you gave a couple newspaper interviews to boot.
Featured Image VIA
Well this bozo named Robert Chapman thought his Capitol riot tale would be an irresistible anecdote for a woman he matched on Bumble, and here's how that played out for him…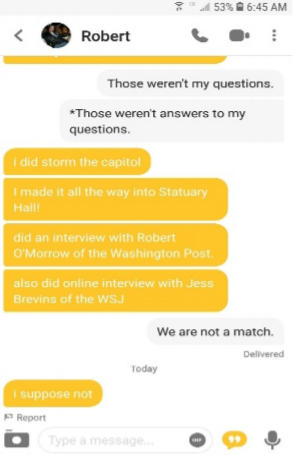 A swing and a miss there. Well, things got even worse for the New York native from there after his match tipped off the FBI about their conversation, according to the BBC.
Chapman has since been arrested and charged with trespassing and disorderly conduct on restricted government property, and is now one of over 400 people who have been charged with participating in the events of January 6.
The truth is Chapman would have probably been caught regardless, seeing as there's police body cam footage of him at the Capitol that day…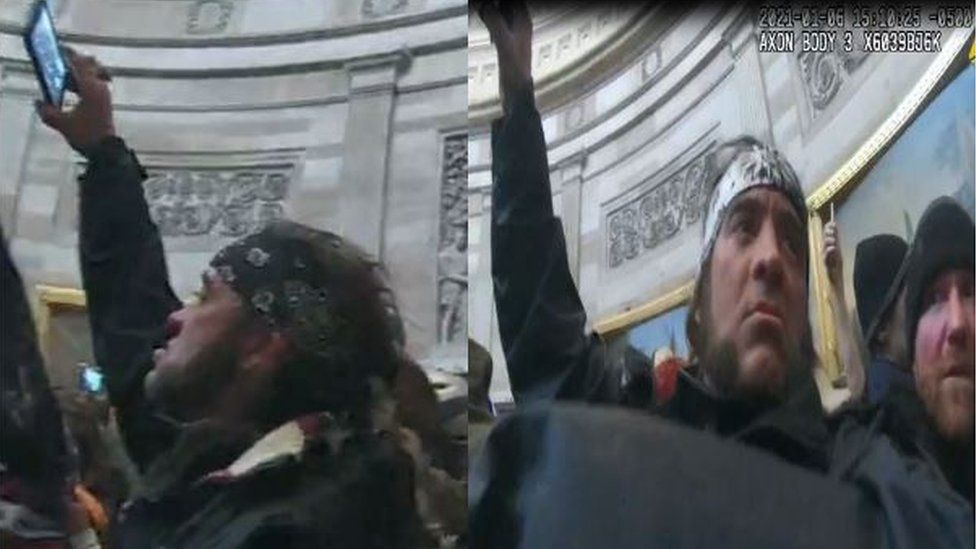 … but still, pretty amusing to think his Bumble brag resulted in the process being sped up a little bit. This woman really responded with "we are not a match" and then reported him to the FBI. Basically ran the guy over and then reversed over his dead body.
Then again she did choose to match with him, so I guess he can take some comfort in the fact she found him halfway attractive. Pretty shocking because the guy's mug has 'serial killer' and/or 'lives in mum's basement' written all over it.
Oh wait, according to this guy…
Chicks on Bumble were deliberately matching with people who had pictures of themselves from the Jan 6 riots in their profiles. Then they would ask them questions trying to get them to incriminate themselves. I don't know if that is the case here, but it could be.

— Frozen Cilantro (@JacksDismay) April 23, 2021
Hmm. That could indeed have been the case. Either way this guy really thought that storming the Capitol made him desirable, which it might do if he was on some kind of MAGA dating app, but I think most women on Tinder/Bumble etc would be properly repelled by that sort of thing. Lesson learned.
For the Florida rapper who was arrested for threatening to 'shoot the whole campus up' in one his songs, click HERE. Smart.