People are born with abnormal bodies every day for a variety of different reasons, but I don't think I've ever seen anyone who has double the amount of toes on one of their feet until now.
Images VIA 
The extra digits belong to a 21 year old man known only as 'Ajun' from Lufeng City in South China's Guangdong Province, who was forced to live with them after his parents thought that they made him lucky. Ajun didn't feel the same way though, refusing to wear sandals from the age of 10 because of the shame and never having asked a girl out either because he was so embarrassed of them.
Now though, Ajun has finally plucked up the courage to go to a medical professional for advice and underwent nine hour surgery to have them removed. Here's what he had to say about his experience: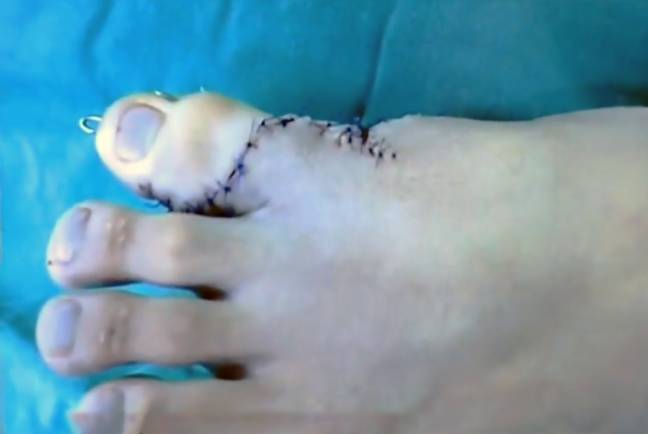 They were superstitious, so they didn't deal with it. They thought if it really looked too bad, I could just cover it with my shoes.

I stopped wearing sandals outside since my third year of primary school. I've never had a girlfriend because I'm so imperfect. I never thought I'd find anyone who wants to be with me.

Now I feel great. I'm very grateful to Doctor Wu Xiang. I think my foot is perfect. He showed me pictures of my foot after surgery, and I'm very happy.
Ajun is currently recovering in hospital and is expected to be discharged in the coming weeks. Dr Xiang revealed that he created a new left foot by migrating the most natural looking toe on the outside to its natural position and replacing the fifth digit to make a new big toe.
He also said that babies with deformities should be operated on after three months and before six years of age and that Ajun was a very unusual case – basically if your baby looks a bit weird like this, don't think that it's a superstition but go and get it checked out ASAP.
For more deformities, check out this girl with an elephant trunk deformity who is being worshipped as a God in India. Not about that.