Obviously don't read this if you haven't watched season 5 of Luther because there are going to be some spoilers in it. Don't say we didn't warn you.
Images VIA
Anyway, now that admin is out of the way I'm sure that the majority of people who clicked on this will have seen the new season of Luther last week where some weird serial killer in a mask crawled up a bus in a really creepy way before stabbing a woman to death. Normally when I watch stuff like that happen on TV I think that it's pretty far removed from stuff in real life, but a woman in Sheffield experienced a similar event on January 3rd, only two days after the original episode was first show.
Asking to remain anonymous, she posted a video on Facebook of a weird guy in a mask talking to her and asking her creepy question whilst she was alone on the top floor of the bus on her way to a shopping centre at night. Pretty similar to Luther hey – here's what she said: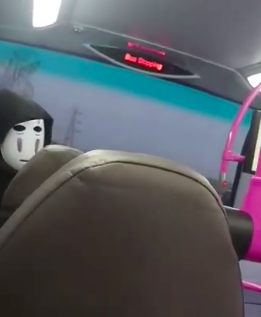 Creepiest bus journey of my life on the 120 back from town towards Crystal Peaks. This guy staring ahead while I'm sat behind asking me questions like what's your surname, are you alone, where do you live.

He turns around with a mask on his face and walks suddenly towards me then stops, turns around and goes back to his chair. #watchoutwhenyoureonthebusalonegirls #becareful

Just glad Crystal Peaks was open and I could make a beeline for that once I got off the bus.

I don't want any hate towards the guy, that was never my intention, he clearly just needs some sort of help.
I mean that's nice of her to add that bit in the end there, but it sounds kinda like she felt like she was unsafe at the time so maybe this guy does need finding and at least questioning/telling him he shouldn't be acting like this. If you're in the Sheffield area make sure you stay vigilant.
For more of the same, check out the grossest Halloween mask of all time. Seriously.