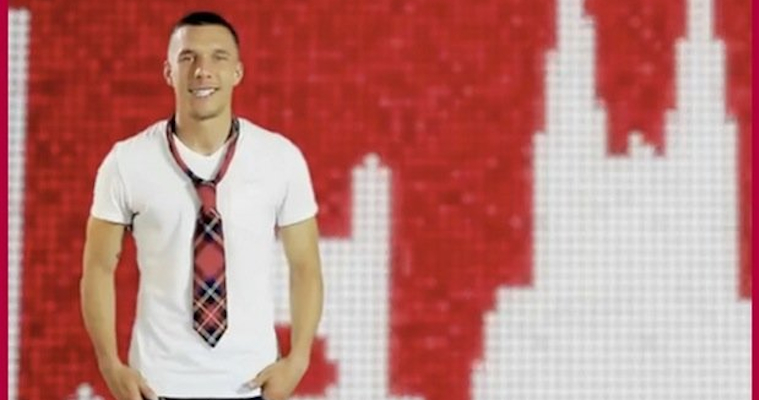 Everything seemed to be going so well for Lukas Podolski. he had finally sealed a transfer to a big team where he might be able to get a game once in a while (admittedly that is Arsenal but for the sake of this sentence let's just pretend that Arsenal are still actually a big club) , he scored a goal for Germany against Denmark to celebrate winning his 100th cap and Germany are favourites to win the Euro 2012 tournament. Not bad huh, except maybe the Arsenal thing, right?
Wrong. Despite all these great acievements, Podolski has spectacularly blown it by deciding to release a pop single to celebrate Germany's progress through the group stages – a collaboration with a Cologne based band (who Podolski undoubtedly met when he was playing for the German titans) called Brigg entitled 'Hallelujah.' No, it's not a Jeff Buckley cover (thank God!) but it could feasibly be interpreted as being worse than what you would imagine Lukas Podolski singing Jeff Buckley's Hallelujah would sound like.
The song itself sounds like a Jedward B-side or something and Podolski's party is pretty laughable – he just sings the first verse doing his best impression of David Baddiel but with the aid of an insane amount of autotune which makes it sound like Romance on a Rocketship or something. It doesn't get much better when the main guy starts singing although there are some nice guitar licks, sure. Unfortunately it's all in German so I can't understand what they're singing about but I guarantee it would be fairly laughable. There's also a really cringeworthy moment at the start of the video where the singer says 'Hey Poli' and Podolski appears and says 'hey' back.
Talking of cringeworthy, what the hell is Podolski wearing in this video. Sure, his outfit is predominantly German – tight white t-shirt and black leather pants – until you notice the fact that he's also wearing a loosefitting necktie around his neck. Who the hell has ever worn a tie over a t-shirt except fat teenage goth girls? And don't get me started on the singer, he looks kind of like what I imagine a bizarre hybrid of  Joe Pesci and Tommy Wiseau would look like if he stole Tim Armstrong's wardrobe. Fashion disaster doesn't even begin to cover it.
Enjoy the debacle below and if karma does exist then Podolski will break his leg against the Italians for being allowed to make this happen.
[yframe url='http://www.youtube.com/watch?v=cVLZmCJ9oyU']