FIFA have rocked Luis Suarez with a record nine game ban and a four month football ban after finding him guilty of biting Giorgio Chiellini during the Uruguay/Italy game, resulting in the biggest World Cup suspension in history.
This means that Suarez is now OUT of the World Cup and his Uruguayan teammates will have to go the rest of the way without him.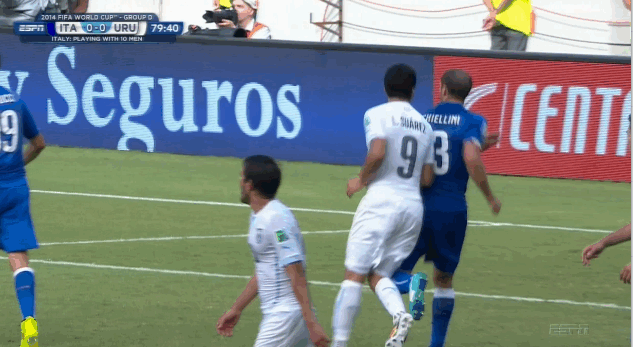 The ban was decided after the board heard how the Mexican ref didn't see the incident, despite Chiellini showing him clear bite marks on his shoulder.
The Uruguayan Football Association tried to defend Suarez by saying he'd come off with worse injuries than his opponent and that he was a victim of a conspiracy created by English, Italian and Brazilian media to try and get him booted out of the World Cup.
The previous two times Suarez had taken chunks out of his opponents were also taken into account — he received a 7 match ban for biting Otman Bakkal in 2011 and a 10 match ban for biting Branislav Ivanovic last year.
From an entertainment perspective — disappointing news. Otherwise, I guess it's kind of a dick move to bite someone and the punishment is pretty much deserved.