If you missed the first update of our journey then click here for that.
After a mixed few days of skating, we were still cruising out of California for our first major destination, Las Vegas. After a pretty rough 4 day run, we were hoping that things would only be getting better from this point on, however little did I know that we were about to face one of our roughest days of the trip so far.
The morning started off pretty easy with nothing bad happening, but as the midday heat hit (around 50 degrees Celsius), and we began to struggle on the push for our 3/4 hour lunch break. By the time we finally met the van during one of the hottest parts of the day, Tom began to feel incredibly ill, and proceeded to violently empty the contents of his stomach on the road.
This would unfortunately put him out of action for the rest of the day. Myself and David took it easy and got some rest before our afternoon miles. It was at this point that I started to get extremely heavy nose bleeds, caused by the dryness of the heat cracking the inside of my nose.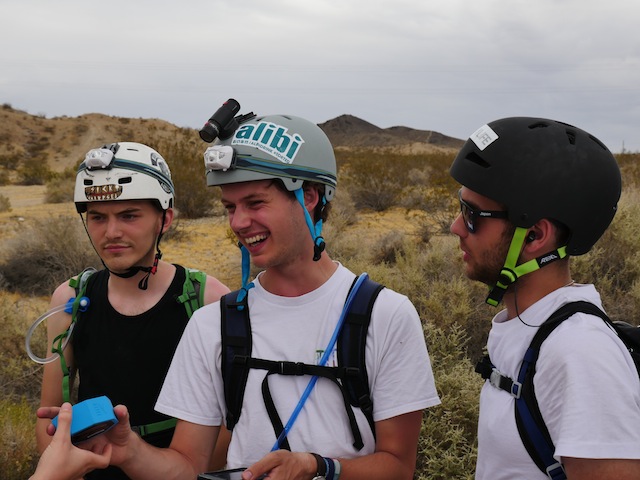 We decided to leave around 7pm, the temperature cool enough for a relaxing skate, however as the night dragged on, David lost it. He started to become delusional, shouting and throwing his board frustrated by the suddenly poor road quality and the fact we were out in the middle of nowhere out in the desert at 2am.
Just as I thought things couldn't get any worse, during the final 5 miles of our day, out in the pitch black with David verging on a mental breakdown, I didn't spot an oncoming pot-hole in time. My board rolled right into it and stopped dead in its tracks, I came flying off the front, but fortunately with no injuries.
That was until I went to get my camera to make a quick vlog about the evening, only to find out it had been smashed in the crash, and was no longer functional. We reached the van and I thought to myself one last time, 'it can only get better from here.'
Our next day was going to be shorter than our usual 50 mile average. This is because we were going to take our first rest day tomorrow, so we decided a nice stopping point would be at the entrance of the Mojave National Preserve. So with a simple day of only 22 miles to skate, we set off early, and were able to grind out the mileage with relative ease, meaning we could end our day early.
We finished up and headed out in the bus to a natural hot spring, the perfect place to chill out for today and tomorrow. It was also at this point, I decided to take my first big step into becoming a man of the wilderness. A quick 5 minute walk into a barren part of the desert, armed with nothing but a roll of toilet paper says it all.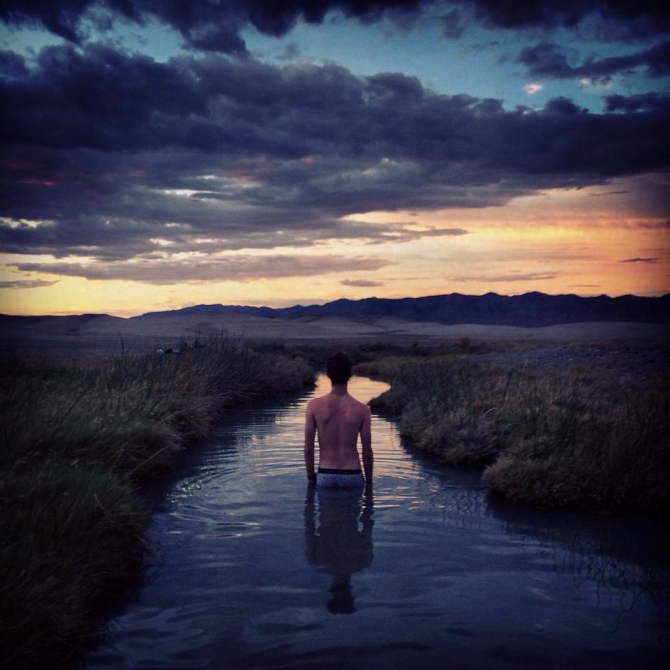 The rest day was incredibly needed, and really showed the importance of letting our multiple muscles rest after 6 days of hard skating in pretty intense heat. It also gave us some time to reflect on what was on our horizon, The Mojave Desert. We knew that this would be no easy task, but we felt prepared, and planned our days through the vast landscape.
The size of the preserve would only take us a single day to push through, two at the most – providing the heat wasn't too intense of course. However with our careful planning and a very early departure time, we were able to grind through plenty of miles from 6am-11am, meaning we could take a long lunch break during the hottest part of the day, and set off in the evening once it had all cooled down.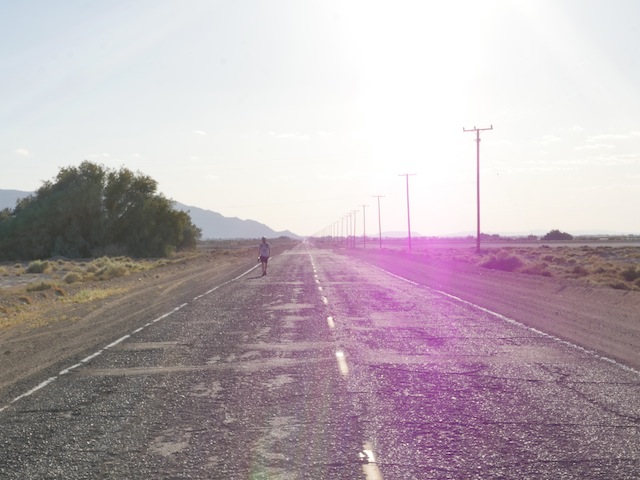 In the evening we set off around 7:30. Once again though, with the cooler temperature and a helpful tailwind behind us, we were able to push through into the early hours of the morning, and over the Nevada border, finishing the preserve in a single day. This was a huge moral boost to us all, and also left us with a nice target for the end of the next day: Vegas.
Day 9 was going to be a challenge. Vegas was sitting 80 miles away from us, 30 more than our daily average. The heat was still pretty intense, but the land was flat and downhill, and with the thought of another couple of rest days in a big city, we were optimistic that we could finish this 80 miles. The morning skate was pretty uneventful, and we covered decent ground all the way up to our lunch break.
Vegas wasn't going to wait for us though, and so we didn't take too long a break, wanting to get there as early as possible we set off again, pushing our way through the heat. This turned out to be a fantastic idea. The heat was intense, but we've been through much worse, and since to roads were so flat, we just kept pushing, and by around 8-9pm, after around 12 hours of skating we hit the centre of Vegas.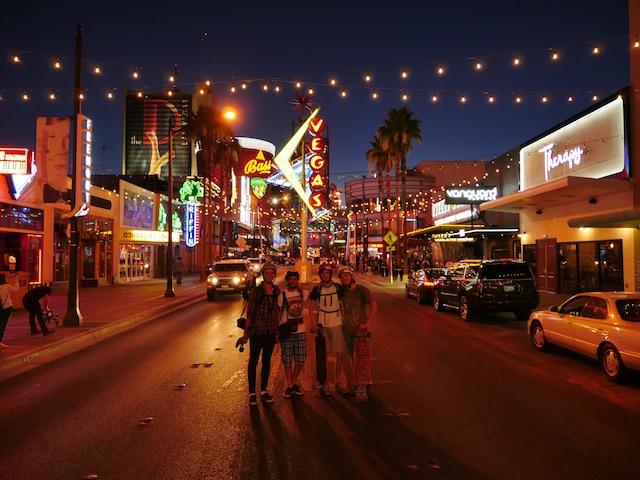 What was our celebration once we had finally made it? A quick power skate up and down the strip of course! Mojave Desert and intense heats? Done. An 80 mile day? Done. A crazy and colourfully lit up city to spend a couple of rest days in? We were feeling on top of the world (despite the blisters).
Stay tuned for our next update in a couple of weeks. In the meantime, please support the Teenage Cancer Trust and subscribe to our Youtube Channel.