America's only female death row inmate, Lisa Montgomery (pictured as a child above and in a recent mugshot), is due to be executed on January 12. She strangled her pregnant friend Bobbie Jo Stinnett to death, then cut Stinnett's unborn baby out of her womb.
Featured Image VIA
According to the Guardian, Lisa's lawyers have this week pleaded directly with President Trump to spare the 52-year-old the death penalty.
A court was told how Lisa Montgomery was sexually assaulted by her stepfather and his pals in a specially-built room as a child. Lisa's lawyers claim both she and her sister were abused in the room and that Lisa was 'broken before she was born'.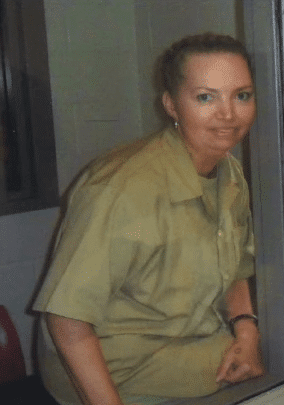 They have made an 11th hour plea directly to President Trump to commute the sentence to life behind bars, after a judge last week dismissed an appeal against Montgomery's execution.
Her lawyers added:
Lisa Montgomery's life was filled with torture, terror, failure, and betrayal.
Montgomery was born brain-damaged because of her mother's drinking. Her older sister Diane Mattingley also supported her plea for clemency, telling reporters of the sexual abuse they both endured.
The girls' stepdad is said to have begun molesting Montgomery from the age of 11, in a specially-constructed room at the back of their trailer. Diane says she was also raped, sometimes while in the same room as her younger sister.
So many people let her down. Yes, I started out the same way, but I went into a place where I was loved and cared for and shown self worth. I had a good foundation. Lisa did not and she broke. She literally broke.
Their mother is said to have joined in the exploitation, and pimped her daughters out to paedophiles.
Montgomery, who resides at the Federal Medical Center in Carswell, Texas, killed eight months pregnant Stinnett in Skidmore, Missouri, in December 2004.
The 23-year-old victim (pictured below) worked as a dog breeder, and met her killer in an online chat forum about rat terriers.
If there's one silver lining, it's that her unborn baby, later named Victoria Jo survived, and was returned to Stinnett's husband Zeb after Montgomery was arrested.
It's also said that Montgomery, who is due to be executed by lethal injection, may have suffered from a miscarriage before she carried out the murder.
Her lawyers say it's wrong to execute her because of her mental illness, but it looks as though the execution will go ahead after Donald Trump ordered a resumption of federal executions for the first time since 2002.
Trump's order resulted in 17 death row inmates being executed in 2020, and if Lisa Montgomery is next, she'll probably be the last one for a while, considering President-elect Joe Biden will be sworn into office on January 20, and he opposes the death penalty.
It's tragic to think of the type of childhood Lisa Montgomery had – abuse, sexual trafficking, incest, rape, domestic violence – and how that led to a lifetime of mental health issues and a desire to kill. Especially heartbreaking when you look at that image up top of her as a little girl and then as a 52-year-old woman on death row. This is a woman who was born 'brain-damaged' thanks to her mum's alcoholism and was literally abused and betrayed before she was born. It just doesn't seem fair, does it?
Then again, how do the family and friends of Bobbie Jo Stinnett feel about it? After all she did brutally murder a pregnant woman (her friend no less) and cut her baby out of her womb, which is unforgivable whether you had a horrific childhood or not. Should Lisa Montgomery sit in a jail cell until she dies or be executed later this month via lethal injection? Would be interesting to know what they think, although it seems the final decision rests with Donald Trump. Will he even give it much thought?
For the death row killer who cracked a joke before his execution, click HERE.