Now that the summer has started and we're allowed to go and hang out in people's gardens in groups of six, there probably isn't a better time to invest this new 12 foot swimming pool that you can pick up from Lidl for less than £100.
Images VIA
The Bestway 12′ Steel Pro Pool costs just £99.99 – OK so not that much less than £100 – and will be on sale from next Sunday June 7th. Here's the official synopsis: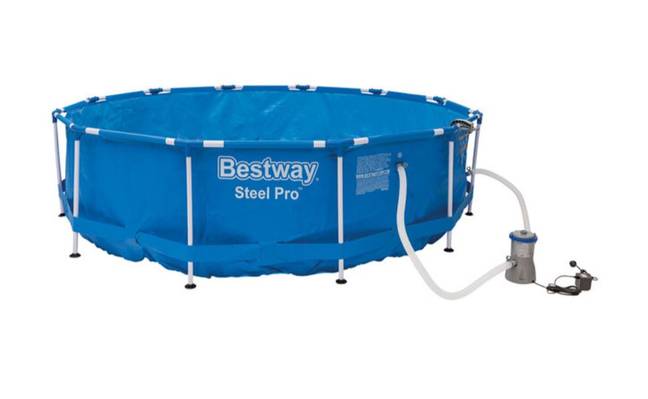 It doesn't get any better than having your very own pool in your backyard and this ultra durable pool strikes the perfect balance between quality and price.

It comes with an easy-to-read floating thermometer for temperature checking and a corrosion-proof plastic surface skimmer automatically clears debris.
I mean that really does sound like a major bargain for £99.99, provided that you've got somewhere to put it in your garden. The way things are going we aren't going to be able to go swimming for months and everyone is going to be hanging out in their gardens all summer as there's nowhere else to go, so imagine how sick it would be if yours was the one with the pool? Everyone would be flocking there every week so it's pretty much a no brainer in my eyes.
You probably wanna act quick though because it'll probably sell out in about a day. You've been warned.
For more of the same, check out this mini jacuzzi for your testicles. What?