It's almost universally well known that Noel and Lima Gallagher absolutely can't stand each other and this makes the chances of an Oasis reunion fairly minimal, but in recent years Liam has seemed to be up for it so fans have dared to dream.
Featured Image VIA
Looks as if they might need to wake up though as Liam decided to completely rinse Noel for no real reason today on Twitter after he decided to post a video calling for fans to send him in questions for an AMA this week. Take a look at this and see what you think: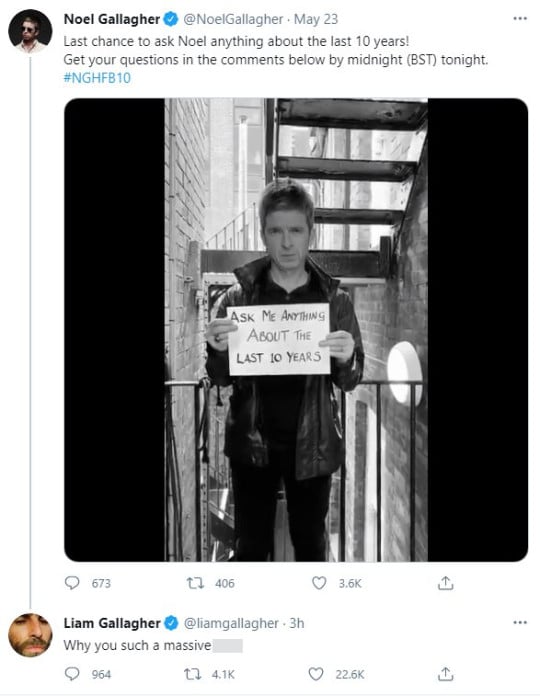 OK I know that's been blacked out but let me tell you it definitely said 'cunt'. What's even crazier though is that Liam has actually gone back on himself and deleted the tweet which seems very out of character for the guy. He then replied with the following to another tweet:
Have faith

— Liam Gallagher (@liamgallagher) May 26, 2021
Wow. Did Liam calling Noel a cunt inspire the two of them to start talking again and Noel agreed to get the band back together if Liam deleted the tweet? That seems very, very unlikely but I guess you never know.
Gotta say the fact that he's deleted it has really taken me back though. Maybe something is going on?
For more of the same, check out Noel Gallagher reviewing old Oasis videos. Very, very funny.