I haven't ever had the pleasure of embarking on a cruise, but I think that if I did I probably wouldn't need to be reminded that I'm not supposed to be having sex with slices of pizza whilst I'm on board.
Images VIA
Nevertheless, apparently cruise operator Norwegian Cruise Line felt it was necessary to issue the following notice reminding guests of this on their recent Holy Ship! party cruise. It's pretty detailed in its explanation: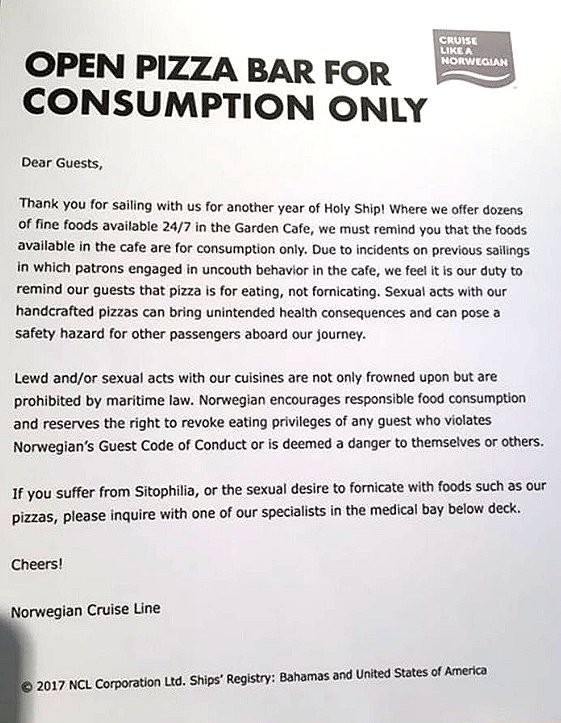 Wow. I mean given the nature of the cruise (party cruise – you know what I'm saying?) you might be forgiven for thinking that it was actually a required notice, but then again do people actually have sex with pizza these days when they're trying to cut loose? I'm not so sure to be honest you know.
Norwegian Cruise Line are playing it off as a prank played by a guest – which again given theatre of the cruise probably makes sense – but I'm more inclined to believe that it's actually true because it's way more fun to think that people that attend these party cruises are just grabbing pizza and rubbing it all over their dicks and vaginas. Especially when it's expressly forbidden. Kinda makes me wanna go and check it out to be honest.
For more pizza, check out the latest food fad – dipping pizza into milk. What the actual heck?