I hate to write anything remotely negative about Leo DiCaprio but I think we may have finally found the one thing that he's no good at – dancing.
Featured Image VIA
Someone managed to capture this sneaky video of Leo on the dancefloor at P Diddy's 50th birthday bash the other day and let's just say he isn't cutting a rug so much as pissing all over it:
📸 #NEWS : Leonardo DiCaprio with Camila Morrone and some friends dancing at Diddy's 50th birthday party in Los Angeles (December 14, 2019) @LeoDiCaprio #LeonardoDiCaprio pic.twitter.com/MNqUL0svxV

— Leonardo Dicaprio Network (@DicaprioFan_) December 15, 2019
What the hell was that? Full marks for confidence but where were the moves to back it up?
Not that Leo can't dance any way he likes, mind you. After all he's at P Diddy's 50th birthday party and has an absolute babe in Camila Morrone on his arm. I don't think anyone in the world could care less what some lowly blogger thinks about their dance moves under those circumstances.
What I don't get is why he didn't bust out this legendary move – always a winner: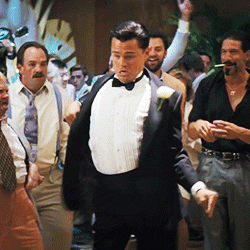 Speaking of Camila Morrone, here's some pics to round us off:
For the time Leo and Camila put on a PDA clinic for the haters criticising their 22-year age difference, click HERE. That's the spirit.
[h/t Insider]