'The Revenant' — starring Leo alongside Tom Hardy — looks like a serious contender for best film of the year, judging by the trailer that dropped a while back.
Featured Image VIA
We already know that Leo got properly immersed in the role, sleeping inside an animal carcass and eating raw bison, but according to one early viewer, things get a lot more hardcore than that.
Via Drudge Report:
The explicit moment from Oscar-winning director Alejandro Inarritu has caused maximum controversy in early screenings.

Some in the audience escaped to the exits when the Wolf of Wall Street met the Grizzly of Yellowstone.

The story of rural survivalism and revenge reaches new violent levels for a mainstream film. The bear flips Leo over and thrusts and thrusts during the explicit mauling. He is raped – twice!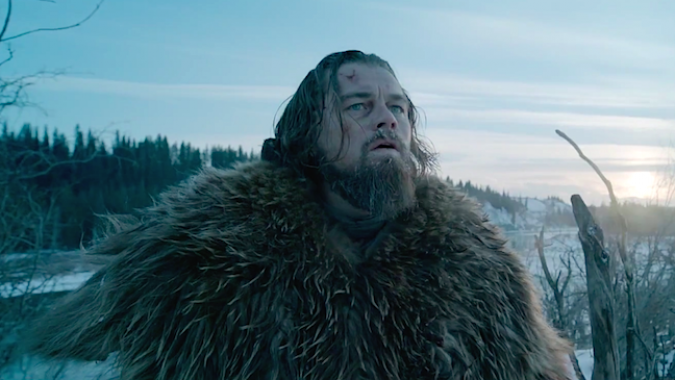 Yikes, bear rape in a film. Is that a first? It has to be. I mean if this is legit then Leo absolutely has to win an Oscar for it. The guy died on the Titanic, he found the secret island on The Beach, he nailed it in the Basketball Diaries, Gilbert Grape, Wolf of Wall Street etc and STILL no Oscars. If getting raped by a bear (twice!) doesn't win you an Oscar, then nothing will.
P.S. If you haven't seen our Leo DiCaprio Vs Dan Bilzerian showdown – you need to check that out HERE.
The Revenant drops in the U.S. on Christmas Day and in the UK in January 2016.