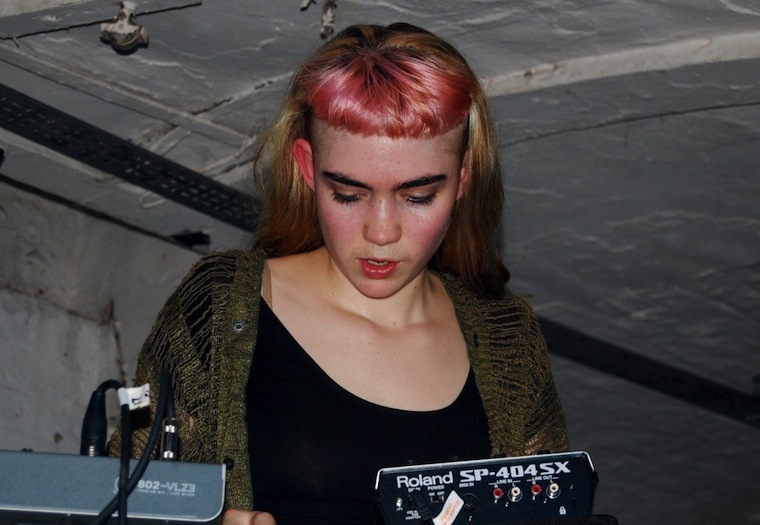 My first time down at Heaven was to see Robyn and ended into the conviction that I had the sex appeal of a chair; but this time I felt a bit less of part of the furniture in this gay club, with a mixed and fairly straight crowd.
From the Dalston cool kids gone on a cruise via the Strand, to Ken (in his pink check shirt) and Barbie (still in her beach dress), the venue was nicely packed without being over-crowded. At least no arm-in-the-air-like-a-human-fan dance moves so I could totally see the stage this time. 
Becoming Real started the show like a man coming from space. Or maybe a skinny kid jumping around behind his massive deck.
I had already seen and fallen in love with geeky-looking Toby Ridler earlier this year at the Shacklewell arms, but it felt good to enjoy a bigger and better set courtesy of the Heaven's facilities. Basically I could feel the bass tickling the back of my internal ears – surely another of the cool things about the gay scene I am unfortunately not allowed to.
First couple of tracks were, albeit recognisably real, lacking a bit of spine to my liking. Later on though, and while the light engineer kicked in with amazing lightning set-up including not-so-gay stroboscopes, the DJ pulled some proper house-y tune with his special dark and cheeky touch. I was in love again. Although the finale was slightly too geeky for me with a bouquet of laser beams and star wars like atmosphere, overall I've really enjoyed that opening set and so did the people around me.
Then came the Grimes
NOTE: There's a reason why I am not famous for my music reviews, that's because I have a past of metalhead I just thought I let you know this before I start reviewing the gig of one of the latest 'coolest' artist…
Apart from hearing one of her songs in the studio next door to my yoga class, pretty much the only thing I knew about Grimes was that documentary and the fact that she had lost her equipment in Manchester last week and being quite relaxed about it . Anyway: my mate Nola invites me to go with her and there I was!
If the naughty thieves nicked the Canadian equipment, thank god they didn't snatch the hot pole dancer for our own pleasure. The lady came first on stage, lit by GRIMES logo on a background screen, to start a well impressive routine intro.
Then Claire Boucher came on stage, followed by a trim bald man with the kinda sunglasses B series celebrities wear after having their face lifted or something, as well as sporting a pair of plastic laser sabres. At that very moment I wondered if I wasn't essentially experiencing pure irony.
Anyhow, the lady started her show, her big hooded anorak on, while another lady in her undies was climbing up the sky to graceful fall down with her bum out and legs apart, while retard drummer was faking drums.
A really cool live show playing in the background, using bits and bobs of her last video clip and adequate image distortion, combined with a very crisp sound, enhance a great and unique live performance should we decided to ignore the unconvincing out of tune drummer. Nola and I were a rather happy crowd.
Then suddenly, already on a fine line, we abruptly shifted from irony straight to totally retarded with the apparition of two male vaguely dancing princesses throwing green balloons to the crowd for one of Grimes tune "Genesis". Again, it's with brio that Boucher performed a live version, ending in a dark trash outro, forcing one of the princesses to start head banging.
She then played what I think was Oblivion, one of her most famous tune apparently, as all the boys in the crowd started to move their head super quickly like idiots why all the girls tried to look sexy using a slower tempo. When I looked at my right, a 70 year old man was moving like a drooling zombie just next to my mate Nola, pouring his beer on her shoes by the same occasion. Win.
Nevertheless, the former art student (they all are natters by the way, I used to live with one of them who was hanging giant fish made of cardboard in the whole flat while I was way) demonstrate a great ability for 80s egyptian like dancing moves as well as a very cute face when she was apologising for using wrong samples due to the fact that she was using replacement gear. I just felt like her set would have had a better consistence if she got rid of the 3 retards and kept the pole dancer (or bring more stripteasers, why not!).
Where you there? Were you wearing a beach dress or a satanic t-shirt? Would you date Grimes drummer? Do you think there's gonna be a pole dancing school opening in Dalston soon? Let us know.
[yframe url='http://www.youtube.com/watch?v=1FH-q0I1fJY&feature=youtu.be']