The KSI Logan Paul boxing match was treated as a joke pretty much when it was first announced, but after fans packed out the Manchester Arena last August and it got over one million PPV buys, people had to stand up and take notice and one of those was legendary promoter Eddie Hearn.
Featured Image VIA
Hearn has agreed to promote their rematch at the Staples Centre in Los Angeles on November 9th and admitted that he was shocked by the success of the first bout and how it convinced him to get involved with the second encounter. He also revealed his conditions for promoting the fight: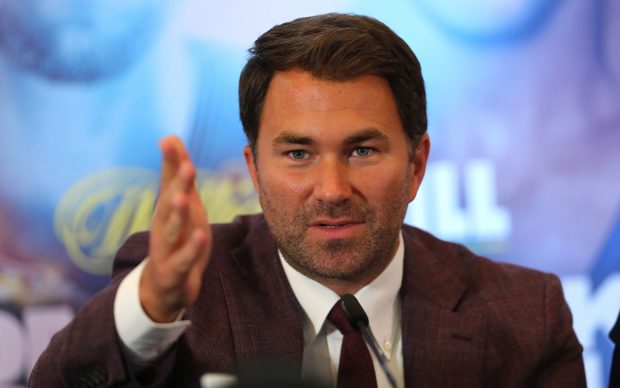 Thirteen months ago when the first fight took place I smirked and pondered how embarrassing it would be to stage this event in a 20,000 seater arena.

What I saw was a phenomenon: a sold out arena, over one million PPV buys but more importantly an energy of a new audience to the sport of boxing.

When I was asked to be involved in the rematch it got me excited but I had some requests to help integrate the two audiences.

I requested that both fighters turn professional and undergo the same medicals that any other fighter would.

I asked that the fighters lose the headguards and use 10oz gloves, if we are going to do this then let's do it properly.

I mean fair play I suppose – if it means that Logan Paul is more likely to get his head smashed in and suffer permanent brain damage then I'm all for it.
Just kidding – I wouldn't wish permanent brain damage on anyone, but it does make sense for them to do it properly if they're promoting it with a big time promoter like Hearn. I can respect that. Kinda ridiculous that a real boxer like Billy Joe Saunders is defending their world title on the undercard of this bout, but I guess that's just how the world works these days and you gotta roll with it in order to survive. So it goes.
For more of the same, check out KSI's brother having a mental breakdown over his treatment of him. Savage.