Travis Barker and Kourtney Kardashian might be one of the most surprising and unexpected love stories of all time, but the pair seem like they're absolutely desperate to prove to the world how into each other they are by sharing as many possible pictures of them all over each other as they can.
Featured Image VIA
The couple seemed to go on a trip to the desert together over the weekend, so obviously there were ample opportunities for them to post up all manner of pictures of them making out and looking like they were about to bang each other right there and then in the sand like a couple of horny teenagers. Here are a couple of the ones that got everyone's heart racing:
View this post on Instagram
View this post on Instagram
There was also this rather horny interaction between the two after Travis posted up a cute picture of himself with his French bulldog:
View this post on Instagram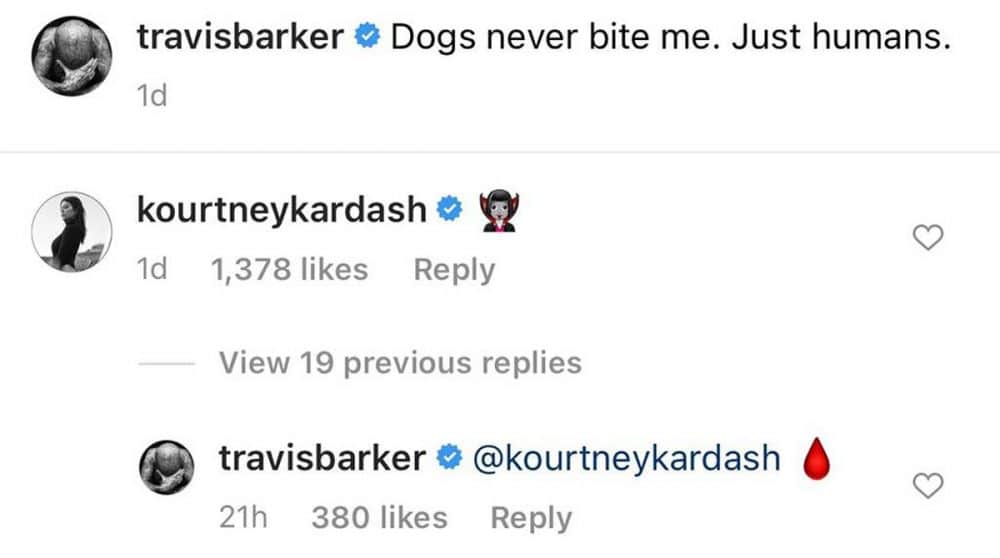 These two hey? I guess it's cute that they like each other so much and feel the need to blab about it all over the internet like this, but it really is the kind of level of cringe that you wouldn't feel good about if you saw two of your friends posting up when you were a teenager. Seriously.
Only one of two ways this relationship os going to go – they'll have a horrible and very public break up in a couple of years or someone will leak their sex tape in the next six months. Actually both of those scenarios could happen, so let's keep our fingers crossed hey? Gonna be entertaining whatever happens.
For more of the same, check out everything else the couple have been getting up to over the past month or so. They really need to get a room.