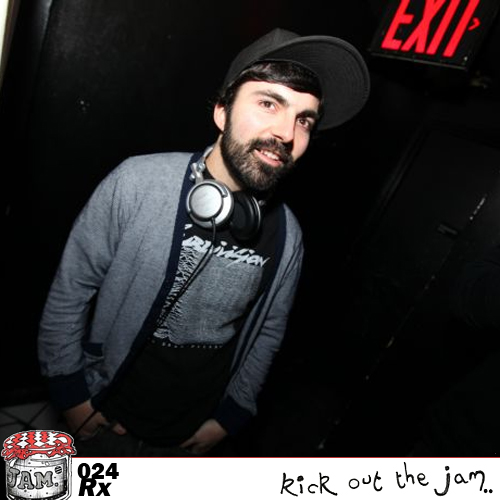 Originally from Philadelphia but now living in Brooklyn, Rx – of the global Subdivision crew and DUSK COLLECTIVE – has been consistently ahead of the game, putting out EPs and singles such as the excellent 'Bumble' EP on Nightshifters and the 'Kaleidoscope Island' EP on Subdepth.
The 'Bumble' EP he released last year on Nightshifters was a free release that threatened to break the Nightshifters servers with 2000 hits in one day!! Rx draws a serious crowd for a very good reason – he draws from a plethora of styles.
As bass music takes a darker turn, incorporating Techno and IDM, Rx rightly welcomes the change with open arms. It's the type of music that makes your chest cavity rattle and your internal organs scramble.
This new mix bridges the gap between heavy bass and Techno with artists like Martyn and Mala attending to the Dubstep side of things while Rx himself offers up some Techier numbers. The 3/4 time stays more or less throughout, but with more arpeggiated synths, hip-hop leanings and even some IDM thrown in for good measure. That said, it's still very much a club-oriented piece, always maintaining the pace to keep you dancing.
Besides collaborative EPs with Sonkin and Shiftee, there's also a debut album on Made In Glitch featuring 'Turquoise' from this mix. Oh, and if you're in NYC around the 3rd of the month, you really should check out the DUSK monthly parties he puts on at Pianos with the great Siyoung.
DOWNLOAD
Rx – KICK OUT THE JAMS RADIO EPISODE 24
Tracklist:
1. Lunice — Fancy Forty [LuckyMe]
2. Millionyoung — Easy Now (Rx Remix) [Forthcoming Old Flame Records]
3. French Horn Rebellion — This Momemnt (Rx Remix) [Once Upon A Time Records]
4. Andrés Few Of Us [Mahogani Music]
5. Catz 'N Dogz — Long Way featuring Nicholas Ryan Gant [Mothership]
6. Rx — Turquoise [forthcoming Made In Glitch]
7. Illum Sphere — Blood Music [Tectonic]
8. Angelo Badalamenti & David Lynch — Twin Peaks Theme (Alternate Version) [davidlynch.com]
9. Rx — Luna [Unreleased]
10. Martyn — Vancouver [3024]
11. Jus Wan — Action Potential [Apple Pips]
12. Rx — Ignite [Unreleased]
13. Rx — Dive [Unreleased]
14. Rx — Dawn [Unreleased]
15. Mala — Alicia [Not On A Label]
16. Outkast — Hold On, Be Strong [LaFace Records]