BREAKING NEWS: KFC are planning to trial an entirely consumable coffee cup in the UK. At last, I have something to get out of bed for. Not so long ago we caught wind of KFC's plans to sell beer and cider along with their meals, but that dream seems to have crashed and burned like so many others; I needed a reason to keep breathing, and this might just be it.
The Scoff-ee. That's what they're calling it. The Scoff-ee… that has to be one of the most annoying product names of all time. But, I suppose it's better than Mr Choco-cup or the Tasto-mug. Maybe they could have called it the Edibo-flask? No, that's ridiculous, sorry. Let's not get too hung up on the name, look how excited that young lady is in the pictures, let's just focus on that. If she's happy, I'm happy.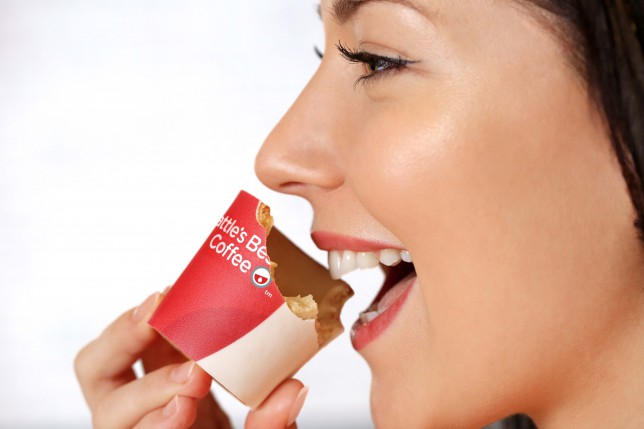 Images VIA
This edible work of art will consist of biscuit, wrapped in sugar paper and lined with a layer of white chocolate. According to KFC's food science uber-legends this will keep the coffee warm but not disintegrate until you chow down on it.
Not satisified with producing a delicious cup they are also infusing them with different aromas to enhance your coffee drinking experience. To be fair, I'm currently supping a luke-warm cup of cheap black instant so it wouldn't take much to improve that experience. However, the scents they've chosen seem a little odd to me:
We've infused different cups with a variety of ambient aromas including Coconut Sun Cream, Freshly Cut Grass and Wild Flowers… These scents were used in our recipes as they have a natural ability to evoke the positive memories we associate with warm weather, sunshine and summer holidays. Things that make everyone smile.
Cut grass and coffee? That sounds like a hay fever flash-back waiting to happen, I'm not sure how positive that will make me feel? And sun cream? Who wants that anywhere near their mouth?
Image VIA
Having said that, I trust KFC implicitly to make me delicious things to eat, let's not forget the Double Down Dog people. Apparently the cups are set for release this summer so watch this space, you can rest assured we will bring you all edible cup related news from now on.