I think that everyone was fairly surprised yesterday when it was announced that someone had actually given Kevin Spacey a role in a new movie and even more shocked when it was discovered that he would be playing a detective investigating a blind artist falsely accused of paedophilia in 'The Man Who Drew God', but can you imagine how the people that have accused Kevin Spacey of sexual abuse must have felt after hearing about it?
Featured Image VIA
Well, we haven't had to wait long for Mark Ebenoch – who accused Spacey of instructing young male crew members to solicit him for sex on the set of 1995 movie 'Outbreak' – to speak out about his feelings on the matter, coming out with the following statement to TMZ: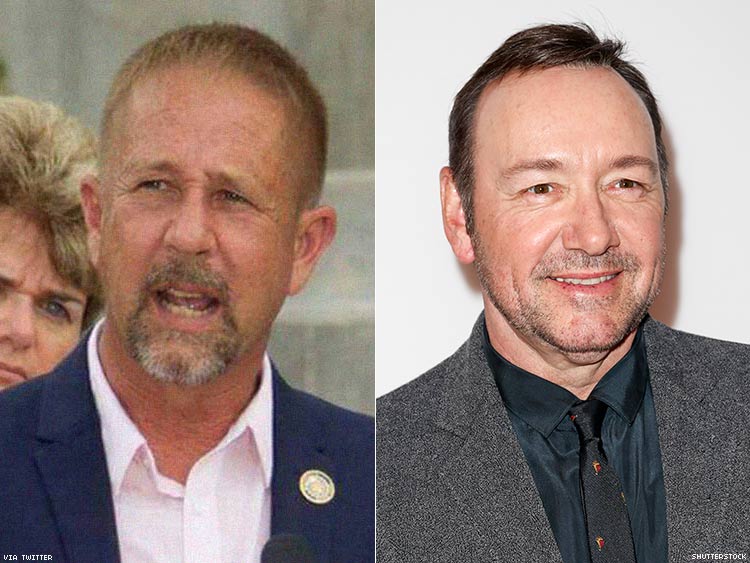 My first thought was 'What the hell?'

I find his involvement in the film absurd given its subject matter.

I'm still waiting for a public apology from the guy and for him to accept full responsibility for his misconduct.

In the meantime I hope the producers of this movie have made sure he's changed his ways and that they keep an extra eye on him to make sure he doesn't do anything like that again.
Yeah, that's surprising diplomatic considering what he's accused Spacey of in the past and everyone reading about it is probably just following his initial reaction. Not really sure if Spacey should be given a second chance considering all the stuff that's been said about him and how absolutely awful it all is.
The director of the movie Franco Nero has justified his casting of Spacey by saying he doesn't believe the 'rumours' are true and that he deserves it because he's a great actor. That seems very naive from the guy doesn't it?
For more of the same, check out what Kevin Spacey's brother had to say about the guy. Kinda says it all really.