Keanu Reeves is well known as perhaps the only true nice guy in Hollywood, so it wasn't too much of a surprise when he decided to pose for pictures with staff at The Robin Hood in Tring, Hertfordshire after stopping in for some fish and chips – it was definitely more of a surprise that he was even there in the first place though.
Featured Image VIA
Nobody knows why 58 year old Reeves was in the area but he ordered the fish and chips and the shepherd's pie for himself and a friend/driver. Following the meal, he then walked into the kitchen to personally thank the chefs that had prepared the food for him before posing with pictures of some of the other staff members.
Here's what Barmaid Laura Rolfe said about Keanu's Saturday afternoon surprise visit: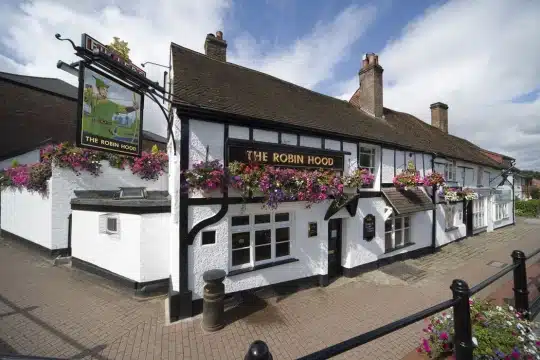 The door swung open, and it was him!

He came to the bar and ordered a beer (Seafarers Ale) and just walked over to the corner. He ordered fish and chips and Nat's shepherd's pie.

When I took the cutlery down, I asked, "Oh is someone else joining you?", but he said, "No, we want to try both.

He was with someone else. Presumably a driver or friend, maybe?'

I decided to leave him in peace, because he deserves to sit and enjoy his lunch just like anyone else.

But, as you can imagine, the two boys working in the kitchen were very excited indeed!

One of our cooks was so excited he looked as though he was going to pass out.

He didn't explain why he was in Tring, but I didn't ask.

When customers come in, they're entitled to sit and have lunch in private without anyone asking about their business.

He was a lovely person but he was out of the door soon enough and that was that.
Once again, Keanu Reeves cements his reputation as one of the nicest guys in show business. I kinda wish that we knew what the heck he was doing in Tring though?! That's not exactly the kind of spot where you normally run into someone like John Wick. I guess he was probably shooting a movie or something but even so, Laura really should have been a bit more on it with this one. I guess we'll never know.
For more of the same, check out when Keanu Reeves' plane got diverted and he took all the other passengers on a road trip to his destination. What a hero.