It's been mere days since Katie Price underwent a whole series of cosmetic surgeries, and already the former glamour model has been forced to fly back to Turkey in a bid to fix the issues caused by the procedures.
Images VIA
Earlier this month, Katie had a face and eye lift, but according to recent reports, when doctors removed the bandages they weren't too happy with the results. Met with pus-oozing wounds and bloodied scars, she's now had to jump on a plane to get it sorted out.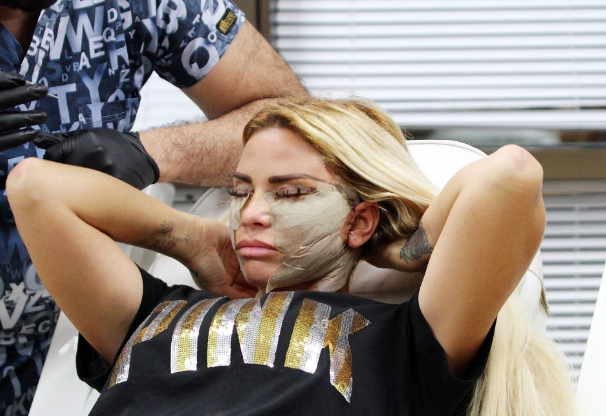 Speaking to The Sun about Katie's condition, a source said:
Katie's really worried about how slowly the face lift is to heal and is frustrated that it's still swollen and hot.

She's worried the scars are infected as they're oozing pus. so she's secretly flown back to Turkey for an emergency meeting with her surgeon, as part of the aftercare.
Considering a similar incident unfolded back in May, whereby a different facelift got infected, you'd think the woman had learned her lesson.
Especially since the year before that, she vowed never to have surgery again due to another infection from another face lift.
Choosing the right place to do the right procedure is vital. Maybe, with hindsight, I should have thought twice before jumping in. I wasn't happy with the outcome last time and didn't like the way I looked.

This is the last time I will have surgery on my face.
But alas, it didn't take long until Katie was back on the surgeon's table.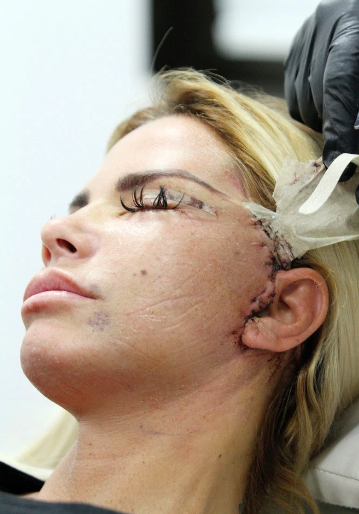 If anything, you've got to feel sorry for her. Clearly she's suffering from some kind of cosmetic surgery addiction, which probably kickstarted when she joined the modelling industry.
Will this recent incident be the final nail in the coffin? History would suggest otherwise, but you never know.
To read about the alleged relationship between Katie and Adam Johnson, click HERE.