Katie Price is never from the headlines and it's usually involving her doing something crazy, having a new boyfriend or getting some more surgery and this time it's the latter.
Images VIA
Despite the fact she's almost broke and has to travel to Turkey now for more procedures because nobody in their right mind over here will operate on her any longer, it's been revealed that she's over there again to receive a boob job, face lift and bum lift reversal. Bizarrely, she's getting her boobs reduced to a D Cup and the fat sucked out of her bum because she thought it looked too big, despite the fact that she literally only had these procedures performed a couple of months ago.
Some people are never happy I guess but I suppose if you've got the money and are willing to put your body through that then why not keep going until you're 'perfect'? One insider isn't so sure Katie will ever find peace though, saying the following: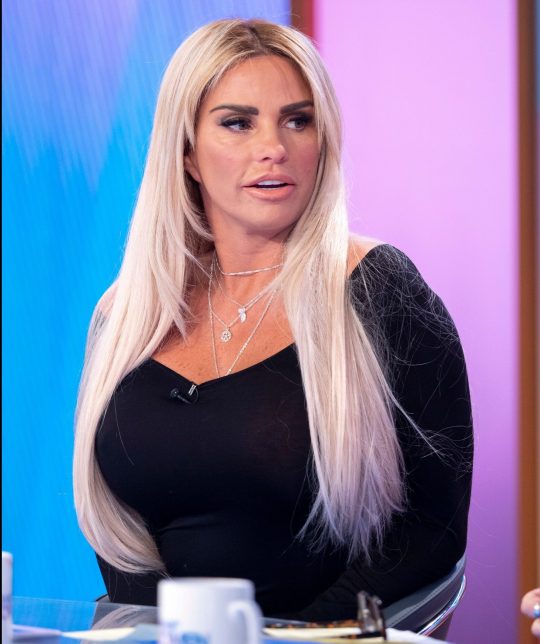 She's saying [her boobs] are perfect now, but we all know she'll never be happy.

She jokes and says she's a perfectionist, and a "chameleon" and she's always changing her look, but everyone's worried she's addicted and will just keep getting things done again and again.

The Turkish clinic is free and she never turns down a freebie and that's why everyone is worried.

She's in terrible pain now, it puts a huge strain on her body with all these surgeries.

Every time she takes longer to recover.
I mean I'm not really sure why everyone is worried that Katie is addicted to plastic surgery because she quite clearly is considering she's spent hundreds of thousands of pounds on it and had umpteen procedures over the years, so maybe they should actually start trying to do something about her problem and treating it like one instead of constantly indulging her? Just an idea there if you really are worried about her body.
For more of the same, check her out planning a prostitute for her son Harvey when he reaches 18. What a great mother.