You can bet your bottom dollar that whenever anything major happens in the world, Katie Hopkins will crawl out of her hole and offer the most vile opinion possible about it via her Twitter account.
Featured Image VIA
True to form, following the Manchester attacks on Monday she posted the following message on Twitter, which she quickly deleted: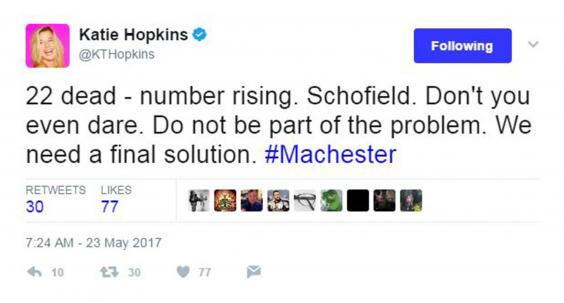 Obviously that isn't that bad at first glance, but when you remember that the Nazis called killing all the Jews the 'final solution' then you realise the connotations of that i.e. that she's kind of implying we should kill all Muslims. I'm fairly sure she probably didn't mean that – and she did retract it, changing 'final' to 'true' in a later tweet – but the fact is, she's always a twat to anyone about any little mistake they make so we might as well jump all over her for this as well.
And that's exactly what the nation did, with some people even reporting her to the police. Normally when Hopkins says something absolutely abhorrent like this there are absolutely no repercussions, but apparently the police are investigating her over these tweets and it's been confirmed that she lost her job at LBC radio.
LBC stands for Leading Britain's Conversation and is famed for its defiantly right wing discussions, so it's kind of crazy that even an organisation like that wants to distance themselves from Hopkins following these tweets. Not really sure what she did on the channel, but I imagine it involved her being an outspoken twat about things.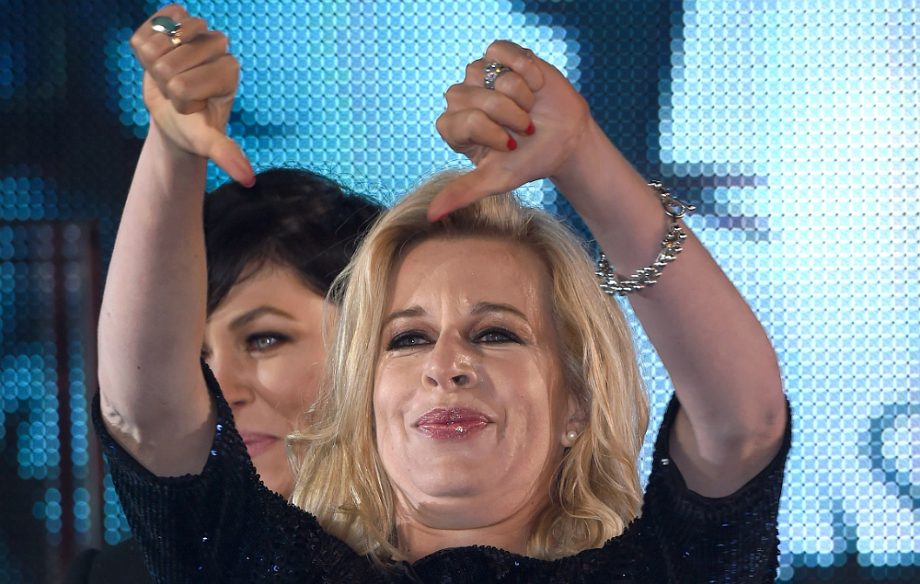 It's no big loss because I doubt anyone reading this will ever have listened to it, but I'm kinda stoked just to see Hopkins lose out on something for once. Don't really wanna say props to the guys at LBC either, but I guess they did the right thing for once.
I'm sadly sure that this won't even really affect Hopkins though and she'll be back spouting crap again before we know it. So it goes.
For more Katie Hopkins, remember when she had an epileptic fit and smashed her face? Bitch.