It's been over ten years since 'The Mighty Boosh' was last on our screens, but the show has such a cult following that fans are still clamouring for its return. so of course Julian Barratt was asked about the possibility of any future episodes when he was doing press for his new show 'Truth Seekers' with Simon Pegg and Nick Frost.
Featured Image VIA 
The good news is that it seems like both him and Noel Fielding will be up for it at some point. Here's what Barrett had to say when he was speaking to 'The Radio Times':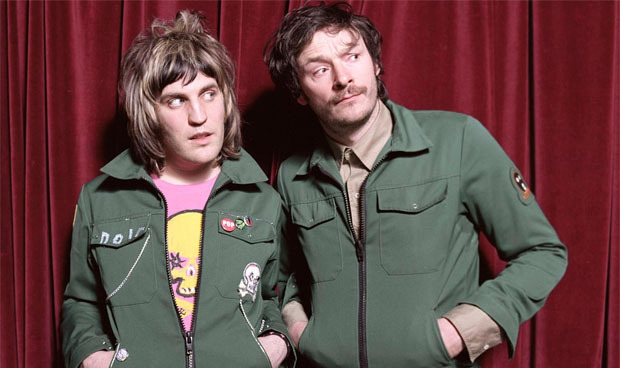 We think we might do something live at some point for people who grew up on us who want to see us. We'll see where we go from there. That'll be in a bit. I don't know when.'
I don't know about another TV show though, we'd have to get back on the Boosh-mobile first. It was so all-consuming when we were doing [it] and we both do different things at the moment. We'd need to get back on that horse, if you know what I mean.

Noel and I are still friends. He's had a daughter and I've got boys and we're doing that for a bit… he lives very close to me, so I do actually see him most days. He never sees me, but I see him.

When I had kids and he was tripping the light fantastic and heading out all hours of the night, he'd be getting back in the small hours and I'd be taking the kids out at dawn in a pushchair. We were in different time zones. And now it's fun to see him in the mornings looking bedraggled by parenthood.
I mean that sounds like it's a matter of when rather than if, but unfortunately it also sounds like the when might be quite some time away given both of their current schedules and families right now. Still, at least it's something to look forward to in a year that's been pretty hard on everyone, even Old Gregg.
For more of the same, remember when Noel Fielding hid in fridge in 'Bake Off'? That was pretty jokes.