Is there a more benevolent artist in the rap game than Juicy J? A week ago he offered a $50k scholarship to the "best chick that can twerk":
☛ Underrated Rappers You Need To Know About: Rejjie Snow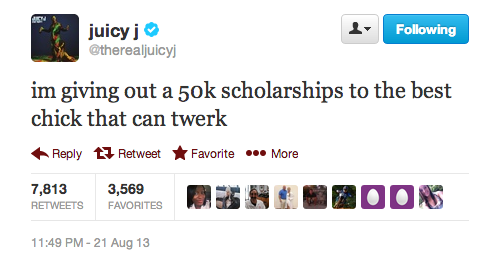 Does he mean the chick that can twerk the best? Or the chick that is the best person overall, but who is able to twerk as a qualifying factor? I don't know, rappers can be confusing.
Anyway, he's now giving away his album 'Stay Trippy' for free, provided you unlock the tracks one-by-one by making it rain on cartoon strippers in this delightful in-browser game. The aim is to send the cartoon strippers higher up their poles by pelting them with dollar bills (you can also drench them in multi-coloured paint). So yeah, it's a pretty debasing experience but definitely in line with the theme of an album that features songs titled 'Bandz a Make Her Dance', 'Bounce it' and 'Money A Do It'.
You can have a bash HERE.