Chelsea have officially given Jose Mourinho the boot after their woeful start this season which sees them hovering over the relegation zone by just one point at 16th place. It was only a matter of time really.
Featured Image VIA
Mourinho only signed a new deal in the summer, and despite the poor start initially was given time to see if he could turn things around, but he hasn't quite managed it.
BREAKING: I understand Jose Mourinho has just been told by Chelsea he has been sacked as manager

— Dan Roan (@danroan) December 17, 2015
His last match in charge basically summed up the Premier League this season, with Leicester City beating them 2-1 and going top of the table.
Here's a breakdown on Mourinho's Premier League record over the years: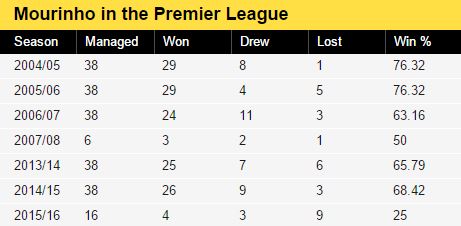 Image VIA
Whatever the problem at Chelsea was, maybe it's something doctor Eva Caneiro — who Mourinho fell out with in a massive palava — could have helped fix? I'm sure she's going to have a wicked Christmas following this news.
One thing's for sure, Mourinho has to be regretting calling Arsene Wenger a specialist in failure last season. It's quite beautiful when the things you say come back to bite you in the ass.
If you haven't seen it already, here's our rundown of the Top 10 Footballer We'd Like To Punch In The Face.