Following on from Conor McGregor's loss against Nate Diaz at the weekend, Jose Aldo was one of the first to come out and cuss him for being a pussy and angle for a rematch for the featherweight title, but some of his comments might look slightly ridiculous after he said that McGregor had no punching power. Remember, this is the guy who got knocked out by McGregor with one punch in 13 seconds last year.
It all started immediately following the fight, where Aldo tweeted the following:
You got nowhere to run now. Time for a rematch, pussy.
Obviously this prompted a response from McGregor in his post fight press conference, where he said the following:
I just think it's — he had an opportunity to show up and he didn't.

He could be sitting where Nate's sitting. He was the first choice.

He said 'any time, any place, anywhere.' And then, it wasn't any time, any place, anywhere.

Now another man gets a victory over me, and he celebrates it? That's the sign of a loser.

That's the sign of somebody — that's the sign of a runner-up. That's not the sign of a champion.
Featured Image VIA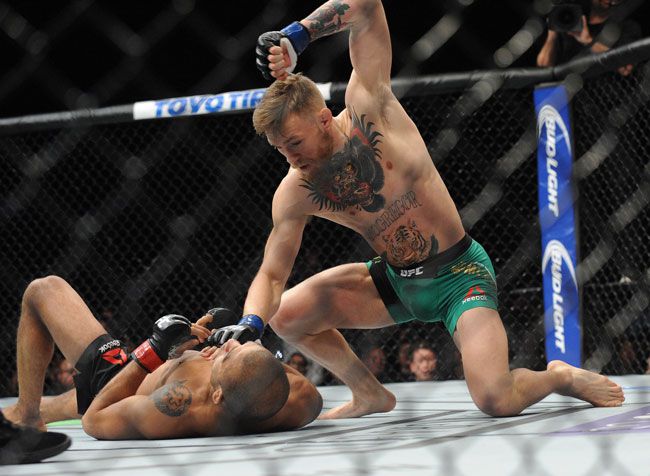 Image VIA
It's kind of hard not to give Aldo another go.

He's 10 years undefeated. But he pulls out a lot and he doesn't show up a lot.

Frankie at least gets in there and competes. So, I dunno.

I'll keep my ear to the ground and see who the fans want to see most.
The he said she said continued, with Aldo suddenly attacking Conor's punches when he heard about this yesterday:
Some fighters have a great punch, others don't. His hands are actually made of soap.

Of course that anyone goes down if you connect a blow in the chin. Even a child hitting in the chin, anyone goes down.

He has hands of soap. He always hits and nobody ever feels it.

He quit, couldn't take it anymore, wanted to run away. He's a pussy. He went down and quit.

He was slapped in the face. He looked like a child, getting slapped in the face.
Hmm yeah, I suppose Aldo has a point but it doesn't really look that great when you're calling out a guy for tapping out against somebody else, especially when he was two weight classes above his usual fighting weight and the same guy knocked you out in 13 seconds, even if it was on the chin.
I guess there's only one way this is ever going to be resolved, and that's when the inevitable rematch rolls around, preferably at UFC 200. Or maybe Conor will fight Tyson Fury then, after he decided to diss him too for tapping out. Yeah right.