I commented earlier on today when I discovered that 160,000 people had signed a petition demanding that Johnny Depp be reinstated in his role in 'Fantastic Beasts 3' that I couldn't believe so many people were supporting him when he had essentially been exposed as a woman beater, but now it turns out there are a load more people out there who aren't happy with how Amber Heard behaved during their relationship and are looking to cancel her as well.
Featured Image VIA
Another petition has appeared on change.org that appeals for Heard to booted out of the DC franchise and it has close to one million signatures at the time of writing, which makes the 'Fantastic Beasts 3' one look like absolutely nothing. Here's what the petition actually says: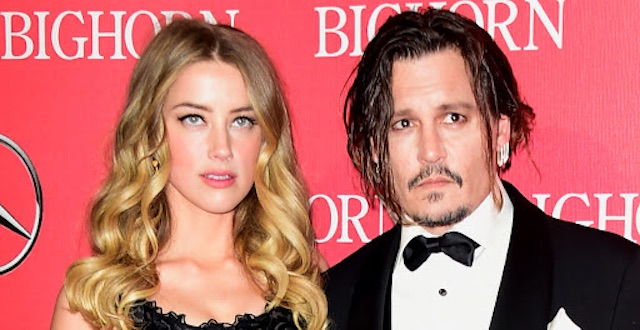 Amber Heard has been exposed as a domestic abuser by Johnny Depp. In his $50 million lawsuit, Johnny Depp describes many incidents of domestic abuse that he suffered at the hands of his (then) wife Amber Heard, including one incident where she punched him twice in the face and another where she shattered his finger with a vodka bottle, and his finger had to be surgically reattached. He will bear the scar from that for the rest of his life.

Also, Amber Heard was arrested in 2009 for abusing a former domestic partner, Tasya Van Ree, demonstrating a repeated pattern of abuse by Amber Heard.

Since Heard's divorce from Johnny Depp, she has systematically crusaded to ruin Depp in Hollywood, repeating multiple accounts of fake incidents in which she had actually abused Johnny Depp, but lied and created false accounts of him being the abuser. About the incident during which she shattered the bones in Johnny Depp's finger and nearly severed it, causing Depp to require surgery to reattach and repair it, Heard presented a false story claiming that he cut off his finger himself, dipped it in paint and scrawled obscenities all over the walls.

Likewise, Heard recounts fabricated incidents of Johnny Depp hitting her in the face when she had, in fact, punched him. Though staff and neighbors in the building where she lived reported seeing no marks on her face in the hours and days after she says Johnny Depp hit her, yet she appeared in court six (6) days later with bruises on her face, asking for a temporary restraining order, which was granted. Photos of Heard from the very next day show her full face, without makeup, and not a single bruise.

As Amber Heard is a known and proven domestic abuser, Warner Brothers and DC Entertainment should and must remove Heard from their Aquaman 2 film project. They must not ignore the suffering of Heard's victims, and must not glamorize a domestic abuser.

Men are victims of domestic abuse, just like women. This must be recognized, and action must be taken to prevent a known abuser from being celebrated within the entertainment industry.

Do the right thing. Remove Amber Heard from Aquaman 2.
Well, again I'm absolutely gobsmacked that so many people are backing Johnny Depp and publicly putting their names on a petition against Amber Heard after he was found guilty in a court of law of beating her up, but I guess they're outraged that there are enough instances of Heard being abusive in their relationship too and are upset that she isn't receiving the same treatment here and arguing that Hollywood executives and judges are essentially favouring her because she's a woman and not taking into account the abuse that Depp faced as well.
I guess Johnny Depp it's a case of Depp having really loyal fans out there or there are a hell of a lot of people out there that at least believe his account of events and that Amber Heard was just as bad as he was during their relationship. I suppose that the Hollywood bigshots are taking away Depp's role now because he was found guilty of beating a woman, but Heard hasn't faced a court ruling yet so may receive the same treatment when they both head to court in that case next year? There are enough instances of her awful behaviour to suggest that she won't be coming out of this with her career intact though.
It's a completely crazy situation and I don't really have any idea how it will ever be resolved or if there's any way for one side to definitively prove their version of what happened so that everyone is satisfied. Stay tuned I guess.
For more of the same, check out all the crazy shit that went down during their trial. Both of them are absolute savages.