With Valentine's Day just around the corner, it won't do you any harm to check out the greatest love letter ever written – as voted for by British experts apparently – for some inspiration when it comes to penning some heartfelt words this Saturday. The honour befell one of the elder statesman of rock n roll Johnny Cash, for this letter that he penned to his wife in 1995 on her 64th birthday. If you can't make it out, the text is below.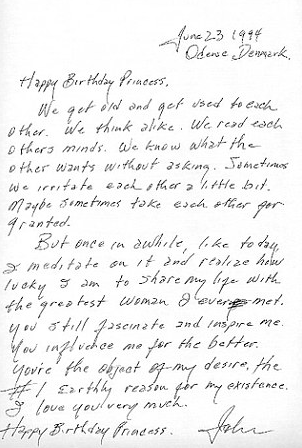 We get old and get used to each other. We think alike. We read each others minds. We know what the other wants without asking. Sometimes we irritate each other a little bit. Maybe sometimes we take each other for granted.

But once in a while, like today, I meditate on it and realize how lucky I am to share my life with the greatest woman I ever met.

You still fascinate and inspire me. You influence me for the better. You're the object of my deskre, the #1 Earthly reason for my existence. I love you very much.

Happy Birthday Princess. John
Wow. Just rip that off this Saturday, hope she doesn't find out where it came from and you'll be set for life. If you're a girl reading this it would probably work if you flipped it around too.
Alternatively, if you're not feeling that then maybe check out some of these unconventional Valentine's Day cards or some of these hip hop Valentine's Day cards.