When it comes to portraying computer game characters in movies, the usual go to guys are probably going to be wrestlers and I can't really think of anyone better to play Duke Nukem in a movie than John Cena.
Featured Image VIA
Think about it – although Cena probably has a lot more morals than Duke Nukem, they're both wisecracking muscular meatheads who will take whatever you can throw at them without ever backing down. So it's with that mentality I welcome the news that Cena is currently in negotiations to play the iconic shoot 'em up character.
Someone has even produced a poster of it already they're that excited: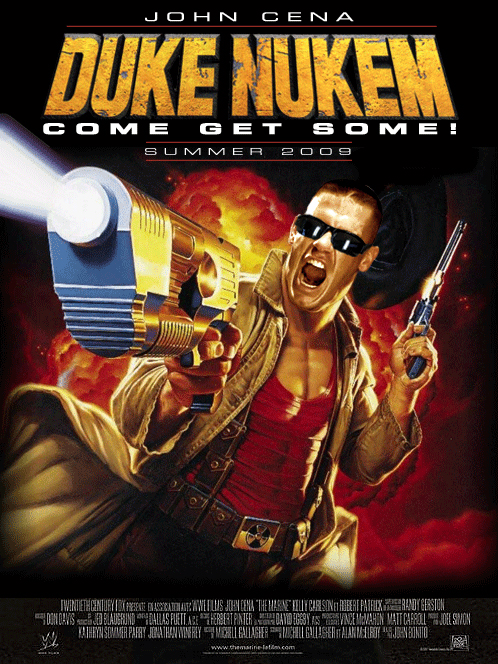 Unfortunately, we're at a very early stage in the process and Cena is currently only in preliminary talks to play Duke. Michael Bay's production company Platinum Dunes picked up the rights to the franchise though and as Cena is currently working on the Transformers Bumblebee prequel movie, there's already a pre existing relationship there that might make this easier for them all to work out.
Again, it's still at a very early stage at the minute with no writer or director currently assigned either. The idea of Cena as Duke Nukem definitely has us excited though, so hopefully we'll see that in a couple of years down the line. In the meantime, you could probably just go watch They Live! which is pretty much a Duke Nukem movie starring Rowdy Roddy Piper – they stole a lot of lines from in in Duke Nukem.
For more Duke Nukem, check out his recent 20 year anniversary world tour. What a time to be alive.