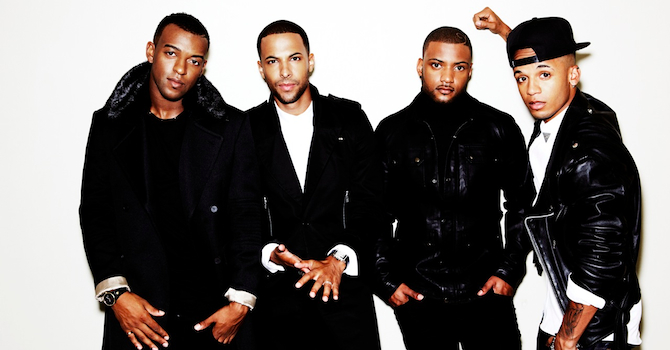 I was pretty shocked this morning when I woke up. Not because JLS had split up – this is neither shocking or interesting to me, I don't think I could even tell you one JLS song – but because SO MANY PEOPLE I knew and would call my friends (or at least acquaintances…..at a push) had an opinion on it and most of them seemed genuinely upset about it. Actually, that's not true they seemed to fall into two sets – those that were really happy about it, almost TOO happy about it and those that were really truly upset about it. I don't really understand why any of these people I know care so much about it one way or the other, so it was really, really weird to me.
Actually, I know why a bunch of my friends were so happy that they split up and it's because they're all bitter musicians in failing/failed/aspiring bands who got really mad that JLS got awarded the title of hardest working band in the UK a couple of years ago because they played 34 gigs that year. I mean in fairness that is complete bullshit compared to playing 200 gigs a year, driving yourself, sleeping in the van, having to eat from the reduced section/steal food and getting paid peanuts but whatever I'm not gonna AWAH about it like a little bitch. I wanted to be in a punk rock band and I kinda knew what it was gonna be like, I wasn't under any illusions and all these guys should have know what they were getting into too. If I wanted to ride around on a giant tour bus and play arenas then I probably would have actually learned how to sing or play an instrument and tried to meet other people who wanted to do that, rather than just going to loads of punk rock shows and getting wasted when I was a kid.
Here's some of the best reaction I found like that. It really is some cry me a river stuff: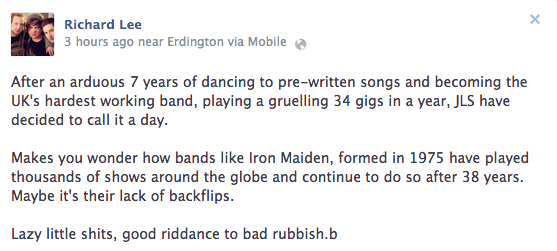 OK so I guess there weren't actually that many of those, but I still found it quite funny how everyone seemed so bitter about it. Of course, this is nothing compared to the outpouring of emotion from people who actually liked JLS who are devastated that they are actually split up. Curiously in my feed the people talking about this weren't actually young girls (not that I have any of those on my Facebook…um) but grown men my own age who seemed desperate to chime in with their opinions on a boy band splitting up!?! I have been known to enjoy pop music from time to time sure, but do I really need to project to the whole world and people I don't really know that I'm gutted about JLS splitting up!?! It's perplexing.




The rest of the stuff is just some dumb tweets I picked up off Twitter that really do smash it out of the ballpark. To be honest I was hoping for more whiney ones from teenage girls who were completely and utterly devastated (like the guys above who are supposedly my friends) but it seems like most Twitter users are a bunch of sarcastic dicks who would rather laugh about JLS splitting up than lament it. Most of the following tweets are like that but there are of course a few good ones from young girls thrown in for good measure. There's also an extract from their book which is just like, wow, I don't even know what to say about it. You'll understand when you read it.
Apologies if you thought that there was going to be any actual information about JLS breaking up in this article but I don't really care about that and would much rather laugh at what everyone is saying about them breaking up. If you really need to know all the details head over to the BBC website or Smash Hits or something.
☛ More Ridiculous Twitter Reaction: 
Woman Names New Baby Hashtag; Twitter Users React Badly 
Twitter Reacts To Justin Bieber And Selena Gomez's Breakup 
Celebrities React To Barack Obama's Re-Election