The organisers of an event in the Scottish borders have been unsurprisingly criticised for allowing a float with a JIMMY SAVILE theme ride through the city. One entrant dressed as the disgraced TV presenter, while his associates dressed as schoolgirls. That old classic dress up eh!
The Common Riding event in Lauder (a traditional annual parade in the Scottish borders) has been heavily criticised by both attendees and politicians, and we can't work out why. Did they do something wrong? Something insensitive? Oh yeah, we get it now. Christine Grahame MSP, whose constituency includes Lauder released the following statement which is pretty much your typically indirect and timid 'politician official statement':
"While I wouldn't want to censor anyone, I think that this has been a serious misjudgment. These gala days are fun, family days and I think it was in poor taste to have done this. The people involved have shown bad judgment and I hope that they reflect upon the offence that their actions will have caused to many people."
The float was entered into the Lauder parade by members of the local Twenty 10 Club on 31 July and won 3rd prize. The organisers have responded to comments thusly;
"Our fancy dress parade is only one element of our week and is a long-standing tradition. We have never censored anyone who has entered the event. It is up to the individuals who enter and their conscience to decide how they wish to express themselves and approach the event. People spectate and take part of their own free will. This year we did not receive any complaints about any of the entrants."

"We are obviously dismayed and understand that people are upset by the coverage one of the entries has received; however, we would reiterate that the committee does not condone or condemn the individual's right to enter the parade in their own way."
No-one is here to suggest that Savile wasn't a monster. Similarly no-one can deny that these guys have balls. You may remember that in the Halloween after the original events unfolded, many people dressed as Savile and let's face it, that was funny for about 3 seconds.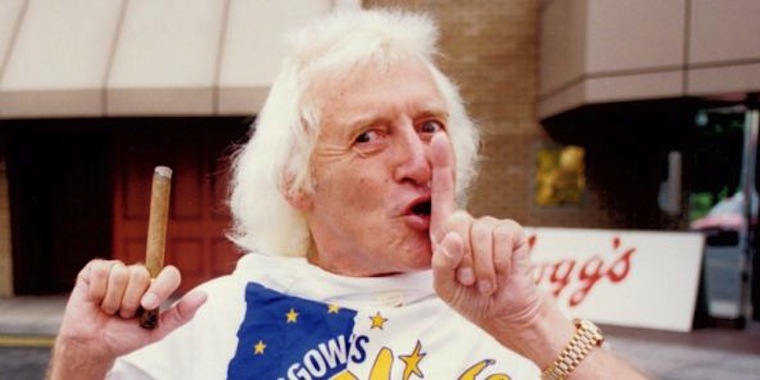 This however, is next-level offensiveness. I'm simply presenting facts here and I don't really want to colour the story with my opinion, but if you really want to know I struggled to write this story because I was laughing so hard over the events. And that pretty much sums the whole thing up.
Classic.
Next: Old Photos of Jimmy Savile That Now Look Really Perverted